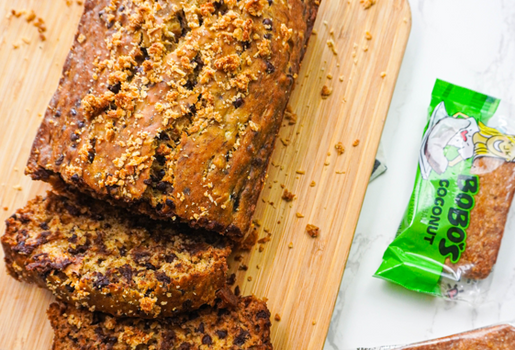 Coconut Granola Chocolate Chip Banana Bread
We are GREATFULL to have the opportunity to have Cara a vegan food. travel and lifestyle blogger of www.thegreatfullgirl.com to feature a recipe including Bobo's! This Banana Bread is delicious morning, noon and night all year long. 
"I absolutely love snacking on Bobo's Oat Bars but never even thought to add them into a recipe until now. If you're unfamiliar with @eatbobos they offer snacks like oat bars, protein bars, oat bites, and toasters that are gluten free, vegan, soy free, and Non-GMO."- Cara from TheGreatfullGirl 
Wet Ingredients: 
3 medium ripe bananas 

¼ cup coconut oil 

¼ cup plant-based milk 

⅓ cup brown sugar 

1 tsp vanilla extract

1 tsp agave nectar
Dry Ingredients: 
2 cups all purpose flour 

1 tsp baking soda 

1 tsp cinnamon 

½ tsp Himalayan pink salt

½ cup dark chocolate chips 

1 Bobo's Coconut Oat Bar (crushed) 
Instructions: 
In a mixing bowl, mash 3 ripe bananas well

Add in with your mashed bananas, coconut oil, plant-based milk, brown sugar, vanilla extract, and agave and mix until well combined

In a separate mixing bowl, mix together flour, baking soda, cinnamon, and Himalyan pink salt.

Place your Bobo's Coconut Oat Bar in a plastic bag and break apart or roll with a rolling pin until the bar has dissolved to crumbs

Add your dry ingredients to your wet ingredients 

Now add fold in your chocolate chips and half of your Bobo's Coconut Oat Bar crumbs (save the other half of the bag of crumbs to top your banana bread)

Prepare your bread pan with non-stick spray or line with parchment paper before transferring in your mixture. 

Preheat your oven to 350 degrees and bake your bread first for 25 minutes

Add the remaining bag of Bobo's Coconut Oat Bar crumbs to the top of your bread and bake for another 25 minutes until your bread is golden brown.
Check out more of Cara's recipes at www.thegreatfullgirl.com