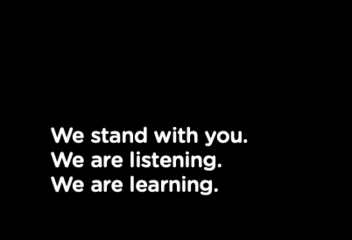 Bobo's Statement of Solidarity
Updated on 6/18/21
We have made important progress on our internal and external initiatives around diversity, equality and inclusion. Our organizational actions and commitment have been updated in this statement accordingly. We are proud on the progress we have made and continue to honor our commitment.
The last several days, weeks, and longer have been an extremely challenging time for our country and especially Black Americans. We recognize the hurt, the pain, the frustration, and the injustice. We've remained silent in the last week to amplify important voices, to listen, learn, work on ways to best respond, and most importantly take actions that speak louder than words. However, we understand that in order to be proper allies, we cannot remain silent. We need to be a part of the solution by speaking out against systemic racism, making and acting on plans that will help incite change, and we must, above all, continue to listen and learn because together we are always stronger.
Bobo's stands together in solidarity with Black communities, citizens, leaders, and organizations against racial and social injustice.
As a brand that fundamentally exists for good, we sincerely reject and oppose racism, injustice, and hate in any form.  We recognize human diversity means treating people everywhere with honor, respect, and equality. Our company values are deeply rooted in loving everyone like family no matter who they are or where they come from and Black, Indigenous, and People of Color (BIPoC) are no exception. Not now, not ever.
Our organization is committed to growing and strengthening everyone's understanding through inclusion, education, and example. Therefore, we are taking action in a few meaningful ways to consciously make a difference through diversity, equality and inclusion and continue to use our business for good.
Listen – We don't have all the answers, but we commit to listening to our community to better inform, guide and lead our decisions. We will continue to make space for important voices, and we will also continue to listen and engage with our community, our partners, and our employees to best reflect their views. We are also listening to what you have to say and encourage your comments to us through our submission link
Donate – Bobo's is matching all employee donations 2:1 to causes that address systemic racism in America. This includes but is not limited to donations to organizations advancing diversity, equality, and inclusion like Black Lives Matter, Know Your Rights Camp, and Campaign Zero.
Educate, inform, and train– We will continue our efforts around diversity, inclusivity and discrimination training. We will continue to add more resources and information to better educate, inform and support our employees on a regular and ongoing basis to guide our collective impact on individuals, our team, and our community. This includes diversity, equality, and inclusion training, discrimination training, sexual assault training, LGBTQ+ ally training, and more. We are encouraging others to learn more through thought leaders and resources including the following: National Museum of African American History and Culture and RacialEquityTools.org.
Provide time to learn, listen, understand, reflect, and take action – We are providing time and encouraging all employees to actively participate in relevant community and national events without taking any PTO so they can take action as they deem appropriate for themselves including protesting, volunteering, learning, listening, and taking time to absorb the information. We encourage employees to cancel unnecessary meetings around observed holidays like Juneteenth to create space for learning and reflection while providing a range of online learning opportunities. 
Accelerate activism – All Bobo's employees are granted additional PTO to take action on Election Days and other important local and regional electoral events. For years now, we have also been partnering with HeadCount to encourage individuals of all walks of life to register to vote and take action in voting for change and expressing their voice.
Diversity recruitment and hiring - We are, and always have been, an equal opportunity employer. We adhere to all hiring guidelines set forth by the Equal Employment Opportunity Commission. We are also increasing our focus on diversity, equality and inclusion as part of our standard hiring practices by working with diversity recruiters in our hiring process that lead to more diverse candidate pools as well as training to remove and prevent hiring biases. 
Fostering a culture of diversity, acceptance and love by continuing to –

Create intentional partnerships with Black, Indigenous, and People of Color (BIPoC)-led and centered organizations
Refuse to do business with companies and individuals who harass, intimidate, bully or abuse our employees or anyone and encourage people to speak up about misconduct
Implement Life Skills Training for our employees and work to elevate opportunities of supervisory and leadership roles for minority employees
Continue our open-door policy with Bobo's Leadership Team for any and all 1:1 conversations and time to listen
Commit to diversifying our marketing efforts in communications to the partners, influencers and individuals we work with, the images and messages we distribute, and the causes we support. And when more relevant and important national voices need to be heard, allow those voices to be heard while we listen.
At Bobo's, our values all start with family and making sure to love everyone as such. We respect your opinion and acknowledge that any steps we take will only be a small step in the overall fight against systemic racism and social injustice. We acknowledge that we aren't perfect, so we promise to stay vigilant in continuing to listen, learn, support, and act to be a part of the solution through inclusion, education, and example. We welcome your feedback and encourage your comments in the submission link below.  If you would like to provide us feedback without using your email address, please feel free to direct message us on Instagram or Facebook. Together we are stronger and together we can make a difference.
SUBMIT YOUR COMMENTS/ FEEDBACK/ QUESTIONS HERE
With Love,
Beryl Stafford and TJ McIntyre
Bobo's Founder | Bobo's CEO
Resources for Action
Follow them, listen to them, learn from them, support them.
Black Lives Matter Global Network – Join the global network
NAACP Legal Defense and Educational Fund, Inc. – Resource on promoting full, equal and active participation