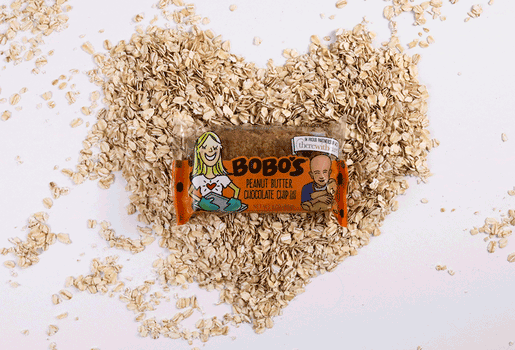 Snacking With A Purpose: Bobo's & There With Care
It began as a simple partnership. Two years ago, we realized that There With Care was the perfect fit for the Bobo's Team and our values as a company, especially this core tenant: to bring people home and make them feel like family. If you're not familiar with There With Care, they make people feel at home every day. There With Care is a non-profit organization that provides fundamental services necessary to keep a family together during a medical crisis. 
There With Care
For over two years, Bobo's has partnered with There With Care to help the organization fulfill its mission. We've volunteered countless hours and even donated monetarily to their cause. Throughout all of the time we've spent together, our friends at There With Care have continued to deeply inspire our Bobo's team with their compassion, kindness, and comfort for families in need. And so we wanted to take this partnership a step further. We wanted to do more. And so we thought, "How else can we help?" 
While Bobo's seeks to bring a sense of home and family to people through our bars, we thought it normal for us to create a product for There With Care, one they could benefit from for the entire year. We're incredibly excited to deepen our relationship by launching a limited-edition "There With Care Bar" and donate 30% of sales of this product directly to There With Care. This bar launched today, March 1st, and will be sold throughout the year. 
There With Care New Bobo's Oat Bar Packaging
You'll notice something unique about this packaging. For the first time ever, Bobo is joined by a friend on the package. This is Thomas, a former recipient of help by There With Care. On February 23, 2007, Thomas was diagnosed with a rare aggressive brain tumor. He was two and a half years old. There With Care stepped in and took care of his family during this time. After multiple hospitalizations, five stem cell transplants and three relapses later, Thomas succumbed to the cancer on August 31st, 2008 at age four. We are honored to continue his memory on the There With Care bar, which we've nicknamed "The Thomas Bar." 
To celebrate the launch of this partnership, we will be hosting a community-wide event on March 22nd at our Boulder Bakery to pack "care bags" with toys and activities for the children facing a medical crisis. From March 1st to March 15th, we will have collection bins at various community partners across Boulder and Denver as well as our Boulder and Loveland bakeries to collect donated toys, books, games and other kid-friendly activities. 
On March 22nd Bobo's entire staff and There With Care (Including the Grammy award-winning Founder Paula Dupre), along with 30-50+ members of the Boulder community, will join together to pack the care packages with the items we collected. We are inviting other members of the community to join in this special day and help us support this amazing and heartwarming cause. 
 To join us on March 22nd, RSVP at our Facebook Event here. 
 To purchase the Thomas Bar/There With Care bar, head to our site here. 
You can explore the other volunteer work we've done with There With Care and other non-profit organizations on our "What's Baking at Bobo's" blog.
Update 4/1/2019: There With Care Cause Bar Media
Bobo's There With Care Cause Bar was first picked up by PR Newswire when the bar was launched on March 1, 2019. The word spread quickly and Bobo's was seen in Biz West, Vegan News, and Trend Hunter. The Bobo's There With Care Bar was also featured in Red Tricycle's post on top snacks for kids.
Additionally, Bobo's There With Care Cause Bar continued to spread with the community outreach event where over 50 people came together to stuff bags for There with Care. Peanut Butter Chocolate Chip bars satiated the mouths and hearts during this incredibly successful event. 
TJ Mcintyre, CEO of Bobo's, and Paula Dupree, founder of There with Care, were interviewed with Denver news station KWGN Channel 2 during the 8AM Daybreak.
Additionally, Bobo's Community Outreach with There With Care was covered in the Longmont Times Call and The Colorado Daily.