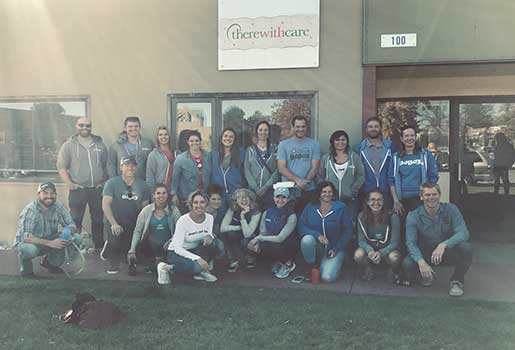 Community Day: Supporting Families in Need and There With Care
In a small office in Boulder, Colorado, someone opens up a reusable grocery bag. Another person stacks boxes of Mac & cheese into a perfect pyramid. Another two work to create an assembly line of juice boxes. Empty boxes are in disarray among the carpeted floor, keeping every worker in their respective place. The tasks are repetitive and require little thought, but everyone in this room has a smile on their face as their tasks will make an uplifting impact to families in need. The assembly line moves, slowly yet surely, as each individual does their part. Finally, after the juice boxes, the soup cans, the graham crackers and the Bobo's bars all find their way to their rightful place, the green bag marked 'There With Care' is carried away to a storage bin. From there the Care Bag will find its way in loving arms to a family that has been relocated to the Denver area because they have a child who is facing a critical illness at Colorado's Children's Hospital.
These people in this small office, the ones laughing and joking and competing to see who can pack their station of products into the bag the fastest, are all employees of Bobo's. Last week, we packed at least 30 Bobo's employees into two different rooms to assemble Care Bags for our community partner "There With Care." There with Care, founded in 2005, provides a range of thoughtful and fundamental services to children and families referred by medical agencies during the critical phase of a medical crisis to ease the burden of life's day-to-day obligations with compassion and care.   
Anyone who could attend, from our CEO to our Customer Service Manager to our Founder, came to help out. These aren't mandatory days of service, but rather days we are given to spend time with each other outside the office, exercising a value that runs deep within the Bobo's company culture - compassion. As a tight knit group of jokers, some who have a bit of a competitive edge (eh-hum, our CEO), we enjoy racing each other to the finish line of whatever task we're given, whether it's packing care kits or gathering other items to be sorted by type. These jobs are meaningful for our partners, not just because we're doing them for free, but because of what they provide. When we pack care kits, the workers at There With Care can spend more time on what they do best - finding donors, creating awareness for their cause, and delivering face-to-face help for families in need. The few hours we put in lead to more hours they can put out. 
For more information on There With Care, visit their website here.