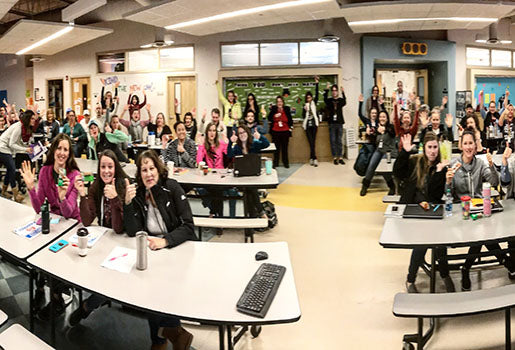 Celebrate National Teacher Appreciation Day with Bobo's!
National Teacher Appreciation Day
Last Friday, our Bobo's Team took the morning off to celebrate Teacher Appreciation Day. Our teachers are some of the most important individuals in our society, but also the most underpaid. We wanted to make their morning extra special by bringing them breakfast (some delicious Bobo's treats,) and coffee (from our favorites at Ozo!) The smiles that lit up the faces of the teachers were absolutely wonderful.
Teacher Appreciation Gift Ideas
Our Bobo's employees are not the only ones who can show some love to the teachers in their lives. There are a lot of ways to show the hardworking teachers in our lives how much we appreciate them. Keep reading to discover several fun ways you can make this Teacher Appreciation Day one of the best.
1) Letters From Students
Everyone loves receiving letters, and teachers are no exception. This year, consider taking the time to have your student write a letter to their teacher about the things they appreciate about them. You can also contact other parents in the class or the school administration and organize a time when all of the students write a letter. Gather them all together, and gift them to the teachers on Teach Appreciation Day! It's an easy and thoughtful gift that will go a long way!
2) A "Thank You" Book from the Class
Programs like Shutterfly make creating picture books a snap! You can also never go wrong with doing a homemade photo book. Each student can personally thank their teacher for what they have done for them, and it will bring a smile to any teacher's face! Click here for some DIY tips on how to create your own Thank You book.
3) Donate Classroom Supplies
Teachers all throughout the country spend their own money to purchase school supplies for the school year. Everything from paper to staples come from their own pocket, so what better way to show your appreciation than by gifting them with some new school supplies? Or another option would be buying them a gift card to a local Supplies store. That way they can go and purchase the supplies themselves.
4) Gift Cards/Treats
Coffee is a tired teacher's best friend, so why not gift a Starbucks or a local coffee shop gift card? They can get themselves a hot latte or an iced chai to help them get through the long days. And as an added bonus, attach a delicious and filling Bobo's Oat Bar. 
 Teachers are some of the hardest working employees out there, and they often go above and beyond for their students. Next year, make sure to take the time to celebrate our teachers - even if it's not on Teacher Appreciation Day.