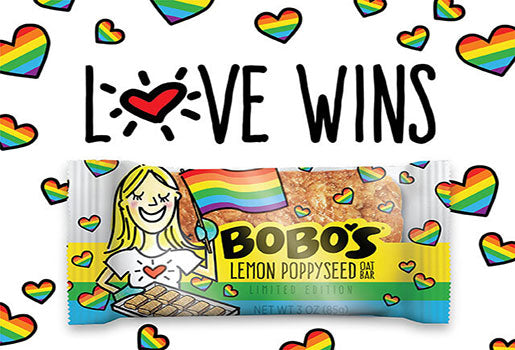 Celebrating Denver Pride with Bobo's & The Center
At Bobo's, love is at the heart of everything that we do. We pour it into baking our bars, into our day-to-day interactions with each other as co-workers, and into our work with our community partners, whether we're packing care kits for There With Care or building houses with Habitat for Humanity. This summer, we wanted to celebrate love, family and community, in a partnership with The Center on Colfax. Why? Because, at Bobo's, we believe in inclusion, acceptance, and - above all else - love, towards others. These beliefs define who we are as an organization, one that wholeheartedly supports the LGBTQ community. We are proud to support the services that The Center provides to Colorado's LGBTQ community through our new Pride Bar. Beginning June 1st, 30% of the sales of our limited-edition Pride Bar will be donated to The Center to help further the crucial work and resources they provide to the Colorado LGBTQ community.
Since 1976, The Center on Colfax has played a pivotal role in giving voice to Colorado's lesbian, gay, bisexual, transgender, and queer community, furthering and driving statewide initiatives to reduce harassment and discrimination in the Rocky Mountain region. The organization has grown to become the largest LGBTQ community center in the region, hosting a number of programs and providing critical resources for both youth and older adults alike.  The Center and their cause are a passion point for the Bobo's family as they continue to encourage everyone to snack with purpose, and seek to bring a sense of home, love and family through each of their hand baked oat bars.
"Bobo's message of 'love wins' goes beyond just loving those around you. It's about embracing and celebrating everyone for who they are" says Beryl Stafford, Bobo's Founder and President. "We believe strongly in equality and ensuring that all people feel welcome and accepted, and are proud to align our brand with an organization who brings that mission to life every day."
Debra Pollock, The Center's CEO, added "We are very grateful to Bobo's for their wonderful support of The Center on Colfax and Denver PrideFest. Bobo's provides our community with both a healthy and delicious snack as well as a way a great way to give back to Colorado's  LGBTQ community and The Center on Colfax. It is extraordinary that Bobo's has established itself as a leader in charitable giving and community inclusion."
In launching our limited-edition Pride Bar, Bobo's is honored to join many other Colorado-based companies in supporting the LGBTQ community. In addition to the limited-edition Pride Bar, Bobo's will be attending various Pride events throughout the month of June, including Denver's Pride Festival and Parade.  
To learn more about The Center, visit their website here. 
To learn more about how you can get involved in Denver Pride, go here.
To purchase the Bobo's limited-edition Pride Bar, go here.