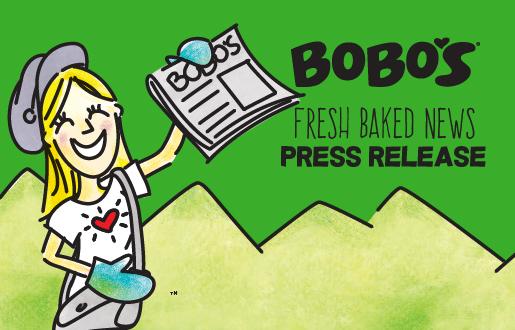 Brands that Give Back: Baked With Love - A Young Denver Resident Battling Brain Cancer Inspires Bobo's Second "There With Care" Bar
Boulder-Based Company Creates New Chocolate Almond Brownie Bar to Raise Funds for Critically-Ill Children
BOULDER, COLORADO,  March 2, 2020 – A three-year old girl from Colorado who has been battling brain cancer for a year has inspired Bobo's, a Boulder-based natural foods company and maker of freshly baked whole grain snacks, to continue to bake with love and release a new, limited-edition oat bar. Connected through local nonprofit, There With Care, the Bobo's team quickly fell in love with the vibrant Nora, diagnosed with a cancerous tumor in 2018,  and decided to honor her courage with her own Bobo's Oat Bar. The "There With Care Chocolate Almond Brownie Bar" was created by Nora at the brand's Boulder, CO bakery, driven by her love of chocolate and selected from a collection of signature mixes. While it's the first time Bobo's has released the flavor, it's extra special because 100 percent of the proceeds of the new bar are donated to There With Care, an organization that provides critical resources for children and families across the country facing medical crisis.
Founded in 2005 by Paula DuPré Pesmen, There With Care works with licensed social workers to identify families and learn what resources are needed, be it transportation, grocery and meal deliveries, family therapy programs or anything else necessary to ease the burden of life's day-to-day obligations. Bobo's has been a proud community partner since 2016, donating over one hundred hours in volunteer time, thousands of Bobo's Oat Bars and over thirty thousand dollars to the families they serve through the organization.
"We were touched when we heard Nora's story and knew we had to do something to help," said T.J. McIntyre, CEO at Bobo's. "As a company born from a mother and daughter baking tradition, our mission is to always to 'bake with love' and to feed everyone like family. We have loved working with There With Care over the past several years and are deeply honored to have the opportunity to work with Nora's family. We hope everyone will support the organization and their powerful mission, our goal is to work together to drive awareness."
"We are blessed to have had the assistance of There With Care throughout Nora's battle," said Caroline the mother of Nora. "Right after her first round of chemotherapy, the team at There With Care reached out and showed up for us by providing resources to ease the burden of day-to-day tasks, allowing me to focus on my family. We are just so thrilled to be working with both Bobo's and There With Care and hope this bar will encourage others to support There With Care so they can continue to serve families like ours nationwide."
Nora's limited-edition There With Care Bar will be available on March 1st in Chocolate Almond Brownie, and can be purchased in six-bar boxes that will retail for $14.99. Bobo's will donate 100% of the proceeds from every box sold to There With Care. To learn more, please visit https://eatbobos.com/therewithcare.
ABOUT BOBO'S:  
BOBO's has been making people everywhere feel like family with fresh-baked, wholesome and handmade snacks since 2003 when BOBO and her mother decided to whip up their favorite homemade goods in their Boulder, CO kitchen. Sticking true to the brand's beginnings, every BOBO's treat is still made with an extra helping of love using the same recipe, the same pan, in the same small-batches, and the same simple wholesome ingredients found in your everyday kitchen. Today, the BOBO's family of products include the original bars and has expanded with oat bites, nut-butter filled bars, toaster pastries, stuff'd bites and protein nut butter bars that can be found in natural and conventional grocers around the country. Every healthy BOBO's treat is still 100% gluten free, kosher, and non-GMO certified. To learn more about BOBO's and how the brand stays committed to feeding everyone like family, visit eatbobos.com or follow @eatbobos on social media.
ABOUT THERE WITH CARE:
A Colorado-based nonprofit, There With Care's mission is to provide a wide range of thoughtful and fundamental services to children and families during the critical phase of a medical crisis. They serve families referred by medical agencies, by building a network of services and people who ease the burden of life's day-to-day obligations with compassion and care.
Contact: Becky Hendee
303-938-1977 x
becky@eatbobos.com