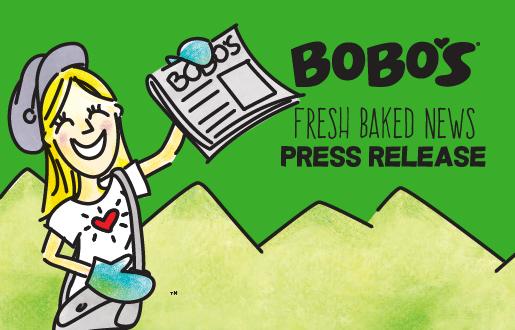 Boulder-Based Bobo's Adds Boulder Food Group as Partner with $5.5 Million Investment
The Hand-Baked Oat Bar Brand Plans to Diversify Product Offerings and Fuel Continuing Top-line Growth with This Latest Round of Funding
BOULDER, COLORADO, July 24, 2019 - Bobo's, the Boulder-based natural food company and maker of freshly-baked whole grain snacks, has announced the close of $5.5 million in Series B1 funding led by BFG (Boulder Food Group), as well as current investors Ridgeline Ventures and BIGR Ventures. Bobo's grew 70 percent in 2017, 45 percent in 2018, and anticipates 40 percent growth in 2019; this round of financing will continue to support the brand's rapid growth.
The funding will be used to expand capacity at the new Loveland, CO bakery and support retail expansion, while driving growth into additional channels. The brand's Loveland facility opened in January 2019 and generated a 50 percent staffing increase to accommodate the growing demand for Bobo's hand-baked bars. The increased capabilities of this location will be instrumental in allowing the brand to properly scale production of their oat-based products. In addition, funds will also be allocated to developing innovation in the coming year, helping to cement the brand's position as a leader in delicious healthy snacks. 
In tandem with the announcement, Bobo's is delighted to share that Tom Spier, Founder and Managing Partner of BFG will be joining its Board of Directors. Spier brings a wealth of knowledge of the natural foods space to the brand and his expertise will be critical in the next phase of growth. 
"BFG is thrilled to partner with Bobo's who has become a staple in the Colorado community and beyond, providing a delicious product the entire family can enjoy without compromising on taste or ingredients," says Tom Spier of BFG. "We are proud to join other Boulder-based partners and support Bobo's in bringing their cravable, wholesome oat-based snacks to homes across the country."  
Bobo's CEO TJ McIntyre added "We are proud to add Boulder Food Group to our group of great PE partners.  They're invested in some of the fastest growing brands in natural foods, and we look forward to benefiting from their insights.  Also, Tom Spier loves Bobo's first and foremost for our taste and quality and that's exactly why we are so excited about this partnership.  He and I have known each other for many years, and we are both psyched to finally and formally work together."
ABOUT BOBO'S:
Bobo's has been making people everywhere feel like family with fresh-baked, wholesome and handmade snacks and handmade oat bars since 2003 when Bobo and her mother decided to do some baking in their Boulder, CO kitchen. Years later, every love-filled Bobo's treat is still made the old-fashioned way; in the same small batches and the same pans. With 16 delicious flavors of Bobo's 3oz bars, six flavors of 1.3 oz. oat bites, four 2.5 oz. nut-butter filled bars, and four 2.5 oz toaster pastries; every healthy BOBO's treat is still 100% gluten free, vegan, kosher, and non-GMO certified. Bobo's can be found in natural and conventional grocers around the country or learn more about how we bake like you are family at eatbobos.com.
ABOUT BFG:
Boulder Food Group ("BFG"), based in both Boulder and Los Angeles, is a venture capital fund which seeks to partner with early stage food and beverage consumer product companies. BFG works alongside exceptional entrepreneurs to ensure the business is able to deliver sustainable growth and outperform its competitors. BFG was founded by Tom Spier, a Co-Founder of EVOL Foods (acquired by Boulder Brands) and COO of Bear Naked (acquired by Kellogg's). (
http://bfgpartners.com/
)
Contact: Becky Hendee
303-938-1977 x
becky@eatbobos.com