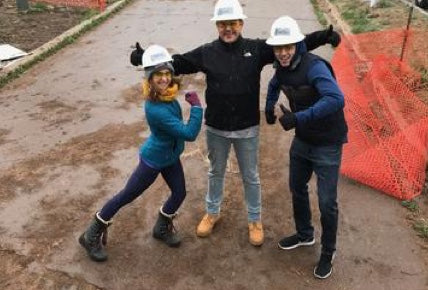 Community Day: Bobo's Builds for Habitat for Humanity St. Vrain
Here at the Bobo's HQ, one of our core values is to "Bring people home and make them feel like family." Every quarter, our entire team sets out to do just that through a partnership with a local community organization. This past quarter, we partnered with Habitat for Humanity of the St. Vrain Valley to build low-income housing. What better way to bring people home than to actually assist in the build? Our thoughts exactly.
And so on a cold Friday morning, our team split into two groups to assist in the building of a few homes. Little did we know, the temperatures would soon drop to 30 degrees and the snow would begin to come through the windows. We froze, but we huddled together around the space heaters while sipping on warm coffee. A team of two took turns using the caulking guns and sitting by the heater. Another team braved the cold by setting up a sawing station. 
  While our toes were frozen, we couldn't help but keep in mind that what we were doing made a difference to the homeowner, who was right there alongside us braving the snow. We eventually were kicked out around 1pm as the snow picked up and blew into the house, but it was certainly a day to remember. 
 For more information on how you can help Habitat for Humanity of the St. Vrain Valley, visit their website here.