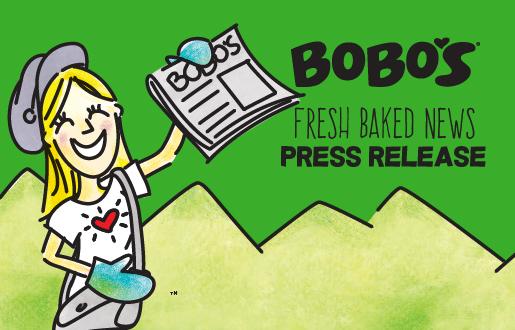 Bobo's Stands with Our Veterans Through An Official Partnership with Operation FINALLY HOME
National Snack Brand Joins Forces with H-E-B and Texas-Based Non-Profit to Fundraise for a Veteran Home Build
Corpus Christi, TEXAS, August XXX, 2019 – In celebration of our heroes and their families, Bobo's is pleased to announce their partnership with Operation FINALLY HOME and H-E-B, and their contribution to the construction of a new home for a local Corpus Christi veteran, U.S. Army Sgt Julio Martinez. Through the launch of the brand's Chocolate Chip "Hero Bar", the Boulder-based company hopes to provide a safe and comfortable home for the Martinez family, as well as inspire conversation around the difficulties veterans and their families face when returning home after active duty.
Realizing the challenges faced by those returning from active duty or transitioning into civilian life, Operation FINALLY HOME provides and constructs mortgage-free homes and home modifications for service members and their families after they have become wounded, ill, or injured during service. The organization has more than 250 homes completed or in planning stage for America's heroes or their widows, bringing together builders, remodelers, developers, corporations and volunteers to honor those who have sacrificed while wearing the uniform.
The local build is for Julio Martinez, a father of three, who was injured during a live fire mission in 2017. Julio joined the army in 2012, graduating as a private first class, before beginning his career and receiving three Army Commendation Medals, an Army Good Conduct Medal and a National Defense Service Medal. In honor of his service, Bobo's feels privileged to help sponsor the construction of a custom home for Julio and his family.
On August XXX, 2019, Bobo's is inviting the Texas community to join them in supporting the Martinez family with two local bake sales at XXXX in Austin and XXXX in Corpus Christi. 100% of the sales from their "Hero bars" sold from XXX to XXX will go to supporting Julio, his wife and their three children. Additionally, during that same time period, Bobo's will likewise be donating 100% of proceeds from any "Hero bars" sold via their website to the family.
"At Bobo's, we are committed to 'bringing people home' and ensuring everyone is treated as family. Our team believes that there is no better way to do this than through wholesome, hand baked treats that remind you of those your mother used to make," said TJ McIntyre, CEO of Bobo's. "We hope that through the sale of our 'HERO bar,' we are able to help provide the Martinez family with their forever home. We are honored to partner with Operation FINALLY HOME in support of Julio, and we thank him for his service and welcome him to our Bobo's family."
"We are grateful for Bobo's support of Operation FINALLY HOME and the Martinez project in Corpus Christi. We wouldn't be able to honor our heroes with homes without the help of our builders, sponsors and the community coming together," said Rusty Carroll, executive director of Operation FINALLY HOME. "And, having these hand baked treats from Bobo's is a wonderful way to remind us all of home."
Beginning this month, Bobo's limited-edition "Hero Bar" can be purchased online at eatbobos.com or at H-E-B locations in six-bar boxes that retail for $14.95. For every box sold, Bobo's will donate $5.00 to Operation FINALLY HOME.
ABOUT BOBO'S:  
BOBO's has been making people everywhere feel like family with fresh-baked, wholesome and handmade
snacks and handmade oat bars since 2003 when BOBO and her mother decided to do some baking in
their Boulder, CO kitchen. Years later, every love-filled BOBO's treat is still made the old-fashioned way; in
the same small batches and the same pans. With 16 delicious flavors of BOBO's 3oz bars, six flavors of 1.3
ounce oat bites, four 2.5 oz. nut-butter filled bars, and four 2.5 oz toaster pastries; every healthy BOBO's
treat is still 100% gluten free, vegan, kosher, and non-GMO certified. BOBO's can be found in natural and
conventional grocers around the country or learn more about how we bake like you are family
at eatbobos.com.
ABOUT OPERATION FINALLY HOME:
Based in New Braunfels, Texas, Operation FINALLY HOME was established in 2005 as a nonpartisan/nonprofit 501(c)(3) organization.
 Operation FINALLY HOME partners with corporate sponsors, builder associations, builders, remodelers, developers, individual contributors, and volunteers to help these Heroes and their families by addressing one of their most pressing needs – a place to call home. For more information about Operation FINALLY HOME, visit OperationFINALLYHOME.org.
Contact: Becky Hendee
303-938-1977 x
becky@eatbobos.com