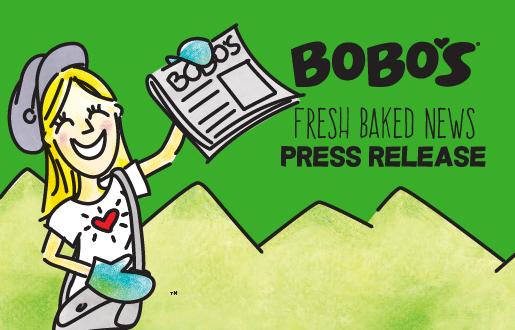 BOBO's Simplifies Ingredient Deck With Organic Coconut Oil
Beloved Oat Bar Brand Switches to Coconut Oil to Simplify Ingredient Deck
BOULDER, Colo. – January 19, 2018 – They say less is more and that's certainly true of BOBO's newest product renovation. BOBO's, the baked-from-the-heart oat bar brand, today announced they have replaced the original recipe's vegan buttery spread, made from palm, canola and olive oils, with organic coconut oil, reducing all products' list of ingredients by five. For the past 14 years, the humble oat bar recipe created by Beryl Stafford and her daughter 'Bobo' has remained unchanged.  However, recognizing consumers preference for fewer yet high quality ingredients BOBO's has invested in improving the ingredients quality while also refining the consistency and texture of each hand-made bar. 
By way of comparison, leading bar brand's ingredient decks have more than double the number of ingredients of the newly reformulated BOBO's bar.  The simplification was a conscious one, as the replacement of palm oil with organic coconut oil lessens the environmental impact of deforestation. Sustainability and simpler ingredients are important attributes to consumers and the move to organic coconut oil incorporates both of these tenets. 
"This is the first time in 14 years that we've made a significant change to our recipe," notes Stafford. "The chance to move to organic coconut oil and decrease the number of ingredients while improving product quality and consistency was too good to resist." The recipe change takes place after a year of testing, both in the bakery and in the field, to ensure the flavor that BOBO's 's consumers love remains the same
The switch to organic coconut oil is effective this March in all 15 flavors of BOBO's 3oz bars and 4 flavors of the STUFF'D Bars, which retail for $2.99 and all 6 Bobo's 1.3 oz 5 ct Bites that retail for $4.99. To learn more about BOBO's, visit eatbobos.com.
ABOUT BOBO'S 
BOBO's specializes in baking simple, nourishing snacks for everyone craving delicious, homemade food. Founded in Boulder, CO in 2003, BOBO's began as a mother-daughter baking tradition with a mission to bake healthier, more nutritious snacks. BOBO's quickly became a local Boulder favorite and today is sold in grocery stores nationwide. At 3oz per bar, BOBO's offers a more satiating snack than most of the bar category. BOBO's 3oz Bars come in 15 delicious flavors alongside 1.3 ounce bites in six flavors and four 2.5 oz nut-butter filled bars; each are gluten-free, vegan, kosher and non-gmo project verified. At BOBO's, we feed you like we feed our family, with hand-baked products that bring you home.
Contact: Becky Hendee
303-938-1977 x
becky@eatbobos.com