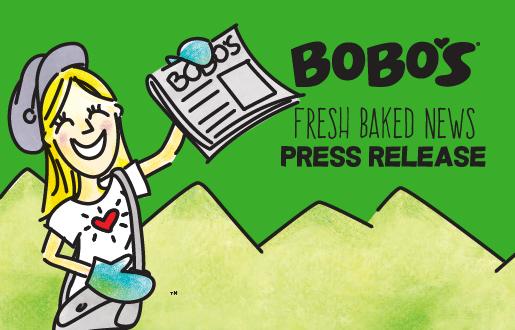 Bobo's Continues to Expand Their National Distribution with the Opening of Their Second Bakery
The Boulder-Based Hand Baked Snack Company Adds 120 New Jobs
to Meet Growing Demand Following Rapid National Expansion
BOULDER, COLORADO, JANUARY 31, 2019 – After a year of rapid growth, Bobo's, a Boulder-based natural foods company and maker of freshly baked whole grain snacks, is pleased to announce their continued national expansion with the opening of their second bakery in Colorado. Following an impressive 70% growth in 2017, the sixteen-year-old company grew 45% in 2018, launching multiple new products across two different lines and scaling their retail and online presence with the addition of Wegman's, Kroger, Publix as well as eCommerce business through Amazon and direct on eatbobos.com. Since closing their last successful round of Series B funding, led by investors Boulder Investment Group Reprise and Ridgeline, Bobo's is poised for a successful 2019 with the opening of their secondary bakery facility designed to meet the increased market demand in the brand's wholesome family-friendly snacks.
Deeply committed to feeding everyone like family, Bobo's bakes each of their oat-based bars in small batches, using delicious, simple and wholesome ingredients. Given the baked-by-hand nature of each of their products, Bobo's was determined to find a bakery site that would support a steady increase in production while maintaining the brand's dedication to quality and handmade baking. In 2018, Bobo's baked over fifteen million bars to fulfill their rapid expansion. The new bakery will focus on the fast-growing Bobo's Stuff'd Bars, Stuff'd Bites and Toaster Pastry line of freshly baked products.  
Rooted in its Colorado community, Bobo's has grown from a family run business to now employing more than one hundred and sixty Colorado bakers; a sharp increase from forty earlier in 2018. Through the opening of their latest bakery, Bobo's is pleased to share that they were able to generate 300% more local jobs and provide 120 new local bakers with new full-time positions. With more ovens and more bakers, Bobo's continues to bake their healthy snacks with their hands and hearts in Colorado.
"We are so pleased to announce the official opening of our secondary bakery," says TJ McIntyre, CEO of Bobo's. "Over the past year, the increased demand for our products has literally pushed us out our doors. Our team is excited to see what we are able to do with more space for ovens and more bakers.  We're poised for success in 2019 and a looking forward to the coming year."
Bobo's celebrated the opening of the second bakery today with company employees, executives and local members of the community. It has plans to open bakery tours to the public and community organizations later in the year to provide education on how food is made and showcase the importance of using quality ingredients.
Founded in 2013 by Beryl Stafford, Bobo's started with, and still uses, four main ingredients found in their kitchen and yours. Each one of their oat bar ingredients is gluten-free, vegan, certified non-GMO, and made from 100% whole grain oats.
To learn more, visit the Bobo's website at www.eatbobos.com.
ABOUT BOBO'S:

BOBO's has been making people everywhere feel like family with fresh-baked, wholesome and handmade snacks and handmade oat bars since 2003 when BOBO and her mother decided to do some baking in their Boulder, CO kitchen. Years later, every love-filled BOBO's treat is still made the old-fashioned way; in the same small batches and the same pans. With 16 delicious flavors of BOBO's 3oz bars, six flavors of 1.3 ounce oat bites, four 2.5 oz. nut-butter filled bars, and four 2.5 oz toaster pastries; every healthy BOBO's treat is still 100% gluten free, vegan, kosher, and non-GMO certified. BOBO's can be found in natural and conventional grocers around the country or learn more about how we bake like you are family at 
eatbobos.com
Contact: Becky Hendee
303-938-1977 x
becky@eatbobos.com