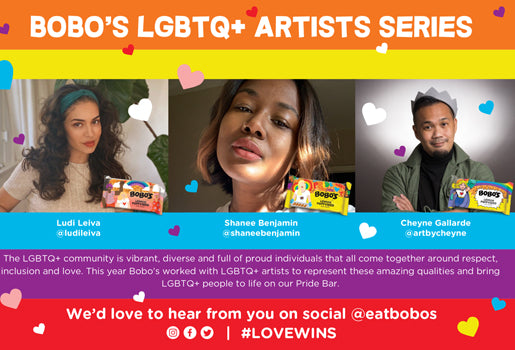 Meet our 2021 LGBTQ+ Pride Artists!
Please Introduce yourself!
Cheyne (He/ Him) : Hi, My name is Cheyne Gallarde and I am an Artist and an illustrator. I was born and raised in Hawaii and now I live in San Francisco. I mainly specialize in comic book style illustration I love vintage and old textured looks like you owned it for 10 years kind of artwork. I have been drawing ever since I could pick up a pencil- probably like 5 or 6 years old and I have been drawing ever since. Art is like a muscle. Some people practice sports and I just practiced art. Everyday.
Ludi (she/they): Hi, I am Ludi Leiva and I am a Guatemalan Slovak visual artist and illustrator. I am an illustrator painter and writer. Previously, I was a journalist and writer, so I still incorporate a bunch of different mediums into my artwork.
Shanee: My name is Shanee Benjamin and I am an artist from Brooklyn, New York. I have been designing for about 8 years now and focus mainly on illustration.
What inspires your style and technique?
Shanee: My artwork is mostly inspired by my life in Brooklyn. Brooklyn is such a vibrant city and diverse place that every time I walk outside so inspired by everybody and everything I see. A lot of my artwork is also inspired by my everyday life as a queer woman.
Cheyne: For me what inspires my style is was growing up on comic books since they were the most affordable form of entertainment my mom could afford at the time. I grew up on Archie and Marvel comic books. And that has definitely inspired my style. What I love about it, is it can take me places I couldn't go in real life. And I can create situations and people that I wouldn't normally see in real life or take ordinary everyday people and make them super. That is what I love about comic books. It's that you can be anyone that you want to be.
Ludi: My illustrations really aim to bring to life brighter future and whimsical possibilities and narratives of healing, empowerment, and expansion. I tend to draw mostly women taking a lot of space and expanding in their environment. And I like to use really vibrant colors and whimsical shapes and themes throughout my work.
Why is the LGBTQ+ community and space important to you?
Ludi: I'm really dedicated to making this world more accepting and more empowering and more loving especially for those of us who are on the margins of society and there is still so much work to be done. I am committed to having that be a part of my practice and everything that I do, not only because I myself am queer but just because I believe that all of our fates and futures are tied together and we have to be looking at how to make the world a more loving and sustainable place for everyone. 
Shanee: Supporting the LGBTQ+ community is so important to me because I am part of the community. I think this is just such a beautiful initiative.
Cheyne: I grew up in small plantation town on the island of Oahu and there are not a lot of gay people there or out gay people there, especially growing up. So, when you find the community that people are like you and have same experiences as you and like the same stuff as you, you automatically gravitate towards them. I think having that community is so important. It does not need to be a big community but I feel as queer people, we grew up so alienated from other people that when we see and meet other people like us we stick together like magnets. I think that this so important to have this.
What made you come up with this particular Pride Packaging Design?
Cheyne: I love and admire strong females. I grew up in a single parent household and my mom was the rock that held everything together. She was both parents, so I grew up loving strong females. From comic books to video games to movies if there is a strong female, I am LOVING it. So, I wanted to take Bobo and make her this strong super hero version of herself. So that is why I drew her as this strong female that is soaring above the skyline and I hope you guys love it!
Shanee: Pride is my favorite month because it is such a colorful month as well, so I think creating the design for this is just really fun!
What will you be doing for Pride Month this year?
Ludi: For pride month, I will be traveling and doing a road trip in the southwest so I will incorporate living joyfully and abundantly all month long!
Cheyne: This pride is very unique, and I love it because we just moved to San Francisco we are in like Gay mecca! So we are definitely going to check out some events because San Francisco has an amazing gay community and I am excited to see how we can help out and become more integrated into the community
To find out more about Cheyne or see his art check out @artbycheyne on Instagram or at www.cheynerama.com  
To find out more about Shanee or see her artwork checkout @shaneebenjamin on Instagram or at www.shaneebenjamin.com   
To find out more about Ludi or see her artwork, checkout @ludileiva on Instagram and Twitter or at www.ludileiva.com
Be sure to check out these phenomenal LGBTQ+ Artist designs on the Pride Lemon Poppyseed Oat Bar and support PFLAG and The Center on Colfax this year!
More Love Stories From Our Community