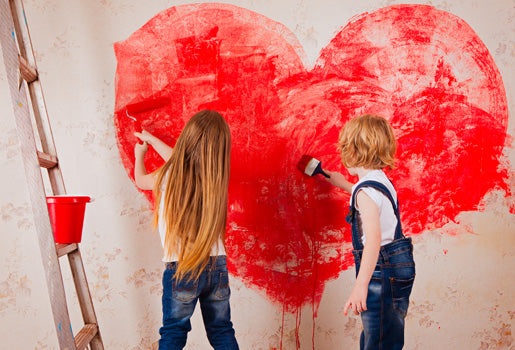 Valentine's Day Gift Ideas for Children
The Best Valentine's Day Gift Ideas for Kids of All Age Groups
While Valentine's Day often seems like a holiday celebrated only between adults and their significant others, there's reason to extend the love and adoration beyond just couples by showing kids how special and meaningful the day can be. Plus, there's no denying that kids love gifts—so help put a smile on their faces and warm their hearts by prioritizing valentine gift ideas for your little ones this year, such as gift baskets for kids or other love-themed games and apparel. 
Valentine's Day can actually be a very special, uplifting day for kids and teens (and even toddlers), and there's no rule that kids don't deserve Valentine's Day gifts and a gentle reminder of how much they are appreciated and loved. Show affection this February 14th by hunting down the best valentine's gifts for kids and planning a fun, festive day that's packed with family-fun activities that focus on expressing love and gratitude. 
Shower them with kisses and hugs and prepare a decadent, chocolate dessert for Valentine's Day, such as a gluten-free molten lava cake, a batch of heart-shaped gluten-free cookies or a Bobo's Oat Bar in Chocolate Chip crumbled atop a rich, creamy scoop of ice cream and a dollop of whipped cream with berries. 
If they're teens, they may have an S.O and prefer to spend the day or evening as a couple. (Yes—they can grow up fast and be in a relationship themselves during those teenage years!) However, you can still put together valentine gift baskets, brimming with their favorite snacks or toys, or you can buy them a new game or article of clothing that they've had their eye on. 
And consider other cute DIY valentines gifts, especially for those of a younger age group, since crafts and art projects tend to be quite popular. Between the Valentine's Day gifts and the warm sentiment of the holiday, kids will easily see just how vast and powerful all the love surrounding them is—as well as find reason to give back love in return. 
Best Valentine Gift Ideas for Toddlers
Way To Celebrate Valentine's Day Plush, Horse
Give your little one a new best friend with this valentine gift idea that's inexpensive and adorable. This soft, plush stuffed horse holds a heart, making it perfectly themed for the occasion. You can also combine the horse with a warm, cozy blanket (a blanket with hearts for its design works nicely with the sentiment of the holiday) or a heart-shaped pillow. This horse and bedding combination set would be a great valentine's gift for a son or grandson. 
Watch them smile as they snuggle up with the horse before bedtime for a mix of comfort and companionship. Pair the horse with this plush customizable pillow to match the look of the heart that the horse is holding, when purchased in red. It's the perfect fit!
Cute Hairy Little Pink Snuggle Monster Valentine Baby Blanket
If you don't want to go with a heart-themed blanket, give your toddler this cute snuggle monster baby blanket instead. Since it's light pink, it would be perfect for a little girl. 
Personalize it by putting their name or nickname on the blanket, on either both sides or just one. Plus, the snuggle monster series has other items your toddler will love as cute valentine's gifts, like a burp cloth and pacifier, among other options too. 
Best Valentine's Day Gift Ideas for Kids 
A DIY Valentine's Day Gift Basket Idea for Kids 
Use your imagination to put together a food themed basket this Valentine's Day for your kids to enjoy when their stomachs begin to rumble. This is a fun DIY craft idea that can be greatly personalized where it includes all of their favorite snacks and treats, from oat bars and bites to toaster pastries for a sweet and satisfying morning.  
With a nice variety of snacks and desserts, they'll put their gift basket to good use, combining a Bobo's Toaster Pastry with a bit of protein and good fats through rich sources like a serving of Greek yogurt with raspberry jam and peanuts or a squeeze pack of almond butter, as one example. You can even include nut butter packets in the basket—a mix of protein-packed foods, desserts and salty snacks is perfect and versatile. 
You can also DIY valentine's gift basket ideas by making a batch of homemade granola or oat bars and other chocolate flavored treats that your kids can't ever get enough of. Chocolate is the theme for Valentine's Day anyway, right? 
And if you want to include items that aren't edible too, you might want to create the basket based on your child's gender. For a boy, sports equipment (think: a new basketball or football) and video games might be top of mind. And for a girl, a new doll, like an American Girl Doll for example, or a Barbie would be a welcome addition for playtime. 
Add in small, random and inexpensive but super fun valentine's gifts to make the baskets unique and really pop. Go with a tic-tac-toe keychain set for a son or tie-dye hair scrunchies and sequin keychains for a daughter. 
Valentine's Themed Backpack for Kids
Get your child a new valentine's themed backpack where they'll walk through the classroom with confidence and style. This backpack has little hearts for the design, which resonates with the holiday. 
Plus, you can customize it and put your daughter's name on the front to help them keep track of and to easily identify it when it's set aside with the rest of the kids' backpacks at school or on the playground. It comes in both small and large, so pick the size that's best for your child's needs. 
This backpack is more feminine in nature, so a different backpack might work better if you're getting a valentine's gift for a son or grandson. This Mackenzie Marvel Glow-in-the-Dark Avengers Backpack is cool and lights up in the dark, for a fun and unique feature. They can wheel it around too when their arms get tired and you can get it personalized with their name, as well. 
Valentine's Day Gifts for Teens
Brighten up your teen's room by giving them a neon light that makes their room edgier with a fun pop of color that'll glow in the dark. The Love LED Wall Light is perfect for a valentine's gift idea since it's a way to express love: visibly and boldly, right on their wall! If you're able to spend a bit more, get them this big, beautiful heart, which comes in a variety of colors and sizes. Plus, there's a dimmer feature to give them the power to set the mood. 
Valentine Water Bottle in a Gift Basket of Workout Essentials
This water bottle keeps your teens hydrated while they're playing sports or working out to prevent dehydration, muscle cramping and fatigue and to improve their overall health and energy levels. Build another DIY gift basket idea that's fit for a workout, which both teenage boys and girls will love. 
Beyond the reusable water bottle, add a subscription to Bobo's Oat Bars for their protein bars, bites and stuff'd bars, for pre- and post-workout snacks to enjoy on the go. The bites are best for pre-workout since they offer immediate carbohydrates for energy and the bite is a good size to nourish and energize without causing stomach pain or lethargy. And both the protein and stuff'd bars are high in protein to repair muscle damage and speed the recovery process. The stuff'd bars are filled with satiating fats from nut butter, which will keep them fuller for longer afterwards and add in some extra fiber. 
Other items might include new apparel, new sporting equipment, new hair ties or hair bands, a valentine's themed towel to wick away sweat, a new pair of sneakers or a smartwatch to track their performance when training. Let your imagination lead you.