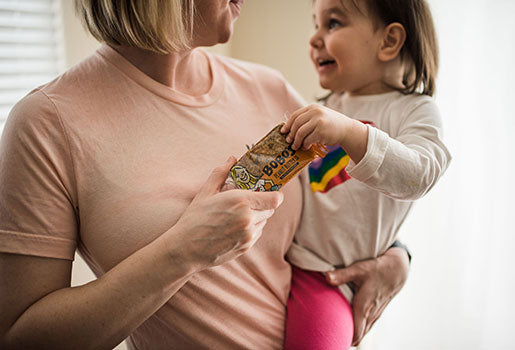 5 Mother's Day Activity Ideas Everyone Will Love
Mother's Day Activities for This Year
Since Bobo's Oat Bars were born from a day of mother and daughter bonding time, Mother's Day is very near and dear to our hearts. During an unseasonably rainy day back in 2003, mom Beryl and her daughter -- nicknamed Bobo -- decided to brighten an otherwise gray day with some baking.
 The concept, originally conceived by a woman named Anna Jarvis, was thought of as a personal day of celebration. A time for connections to be made with relatives and held within families. She perceived the holiday as a day set aside for families to spend more time together, visit their mothers and attend church services; which is the reason why Mother's Day always falls on a Sunday. 
Mother's Day Activity and Gift Ideas
1) Buy Her Flowers
While it may seem overdone and corny, flowers are a beautiful and thoughtful gift to give to a mother on Mother's Day. From lilies to sunflowers, there are endless possibilities and that could make up a stunning bouquet. Make it a family event by taking the kids along and letting them pick out some of the flowers to add to the arrangement. This thoughtful gesture will make any mom out there smile ear to ear, and every time she looks at those flowers she will think of her loving family and how they appreciate her.
2) Make Her Breakfast in Bed
Breakfast is said to be the most important meal of the day, so why not treat your mother to a nice breakfast in bed this year? You and the kids can sneak downstairs early in the morning, make her some yummy pancakes, eggs, bacon, coffee, or whatever else she might like, and bring it to her in bed. Starting her day off with a little sleep in (which let's be honest, she deserves it) and some yummy food will make the start of her Mother's Day that much sweeter. And the kids can enjoy it too! Pop a few Bobo's Chocolate Peanut Butter Toaster Pastry's in the toaster and you're good to go!
3) Plan a Family Photoshoot
Who doesn't love documenting cute family moments? By planning a fun family photoshoot at a local park or even at your own home, you will be able to remember this fun day for years to come. Dress the kids up in some cute outfits, hop in the car, and make a day out of this photoshoot. Grab some ice cream on the way home and everyone will be smiling by the end of the day.
4) Go On a Family Picnic
Picnics are a fun and easy activity that the whole family will love! Research nearby parks or outdoor venues that feature playgrounds and picnic tables so that way both the kids and parents can feel right at home and comfortable. Pack a basket with all the picnic essentials -- chips, sandwiches, watermelon, and other snacks - the night before, without mom knowing of course, and surprise her with a fun day outdoors!
5) Spa Day
Everyone deserves to be pampered from time to time, especially moms. They work 24/7 to make sure their loved ones lives run smoothly, so they definitely need a day to themselves. Book a day at the spa or a mani-pedi at a Nail Salon and surprise them with it. While they are gone, you and the kids can make a game out of seeing who can clean the house the fastest. She will come back feeling refreshed and will be so grateful to see the house so clean! 
Other fun activities to enjoy with Mom and ways to celebrate her on this red-letter date include:
Planting a garden to enjoy fresh fruits and vegetables later in the fall
Going antiquing, or to a flea market as a family
Getting "crafty" with a new art project that may include signing up for a class at a community college or at a local arts and crafts store
Putting together a puzzle or playing a family-favorite board game
Strolling through a botanical garden or visiting a museum
And remember, sweet treats are almost always a welcomed treat on Mother's Day! Consider one of our healthy Bobo's Oat Bars. For fans of peanut butter and chocolate chips, there's a special "There With Care Bar" on sale with a portion of the proceeds going to this namesake charitable organization supporting families dealing with children suffering from serious medical conditions. Not only will your mother enjoy these delicious and healthy snacks, but she'll also be thrilled to know some of the funds from your purchase are going to help struggling moms who are caring for an ailing child. Happy Mother's Day everyone!