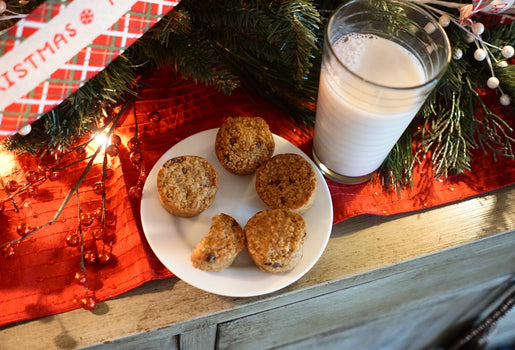 Healthy Christmas Snacks for Kids That Even Santa Will Love
Adorable and Delicious Christmas Snacks for Kids
The holidays are an especially difficult time to maintain healthy eating habits. Kids are tempted at every turn by candy canes, cookies, and special holiday treats. But it's never too late to introduce new, healthier traditions, and make kid-friendly healthy Christmas snacks and treats with less fat and sugar.
Kids are attracted to the fun colors, shapes, and textures of holiday foods, so take the time to make healthy Christmas snacks that appeal to all their senses, and they'll never miss the sugary alternatives. Here are some fun ideas for healthy Christmas snacks for kids.
Make Christmas "Cookies" from an Apple
Slice apples into discs that are about 1/2 inch thick a
nd arrange them flat on a tray or plate. You can even use a cookie cutter to make your apple slices into fun Christmas cookie shapes. Have kids help "frost" the apple cookies with peanut butter or almond butter. Decorate them with raisins, currants, nuts, or berries. Getting kids involved in frosting and decorating the slices makes them not only a healthy holiday treat, but engaging kids in cooking is a fun family experience.
Make "Christmas Ornaments" from Fruit Leather and Melons
To make fruit leather, cut your fruit of choice into chunks. Cook over low heat with water, a little bit of honey, and a splash of lemon juice, stirring occasionally until it is cooked down and thickened. Let the fruit cool, then add it to a blender or food processor and process until it is smooth. Spread it thinly onto a parchment-lined baking sheet, using a spatula to even it out. Dry at low heat in the oven for several hours, until it is pliable and tacky, but not sticky. Slice fruit leather into thin strips. For more fun, make different fruit leathers for different colors. Wrap the strips of fruit leather around melon balls and secure in place with a toothpick. While it takes a long time to make fruit leather, it's easily done well ahead of time, and takes little effort. These fun little variations on melon balls are a great treat for holiday parties and look fantastic on an appetizer tray.
Make "Santa Hats" with Watermelon
Slice watermelon into flat triangle shapes, with the rind of the watermelon at the base of the triangle. Slide a skewer through the center of the watermelon, with the point coming out the tip of the triangle. Place a slice of banana at the tip, secured with the skewer, to resemble the pom-pom on Santa's hat. This cute kid's snack is not only seasonal, but takes just minutes to make. Use cookie cutters to make variations, with watermelon slices cut as stars, or Christmas trees.
Make "Christmas Trees" from Oat Bars
Take any flavor of Bobo's popular oat bars and use a knife or cookie cutter to trim it into the shape of a Christmas tree. Add currants or berries to decorate the tree. This snack is not only healthy, seasonal, and fast to make, but it's also filling and satisfying, and may keep kids away from more sugary snacks. Bobo's Bites also make excellent healthy stocking stuffers and great holiday snacks.
Make "Snow Men" with Bananas and Strawberries
Slice a banana into 1/2 inch slices. Lay the slices flat and line them up three at a time. Slide a skewer up through the slices, mimicking the three round shapes of a snowman. Place a strawberry point-side up at the tip of the skewer, to look like a Santa hat. You could even give it eyes and buttons with raisins or currants, and add a small wedge of carrot for the nose. This healthy Christmas treat is cute and appealing for kids and adults alike. 
There are dozens of ways to make Christmas snacks using fruit, with all the fun, color, and sweetness that keeps kids, guests, and even Santa happy at the holidays. Get a head start on a healthy New Year with holiday snacks and treats you can feel good about.