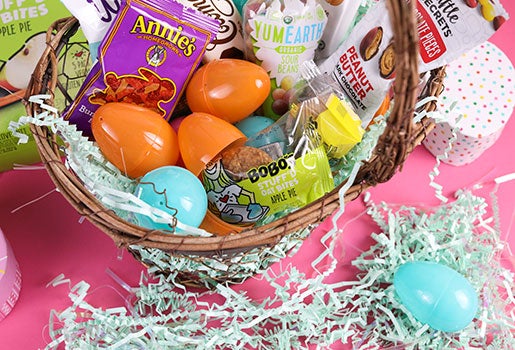 Easter Basket Gifts for Kids of All Ages
The Best Easter Basket Ideas for Kids 
Easter is a great holiday for family fun—between decorating easter eggs in beautiful pastels and making homemade marshmallow gluten free krispie treats and rainbow colored cakes, there's plenty of opportunity to create fun, festive DIY Easter baskets at home that the whole family will love, and kids in particular! 
Plus, Easter is during the spring season, so there's more availability to nature, warmer temperatures and outdoor recreational activities, like going on an egg hunt and even creating Easter basket ideas for all ages, kids and babies, as well as girls and boys—let your imagination run wild as you fill up those baskets with a variety of Easter basket stuffers that appeal to all ages and resonate perfectly with the holiday and season. 
April marks the emergence of sunshine, the blossoming of flowers and a nice warm breeze, as some of the many cheerful sentiments associated with the departure of winter and more sunny days ahead with more access to fresh air and nature. 
In terms of which Easter basket ideas are best for kids, you can't go wrong with candies and snack foods, along with toys and other little fun accessories or DIY projects. Think: bunny-themed accessories, rainbow colored treats, Peeps and other marshmallow sweets, Bobo's Toaster Pastry, egg-shaped chocolates, like Cadbury creme-filled eggs and other Easter basket stuffers to go inside bright colored plastic eggs or even glow-in-dark eggs for extra fun. You can ditch some of the sweet stuff in favor of healthier snacks though, which will still provide your kids with some tasty treats but with some added nutritional value.
These are the best Easter basket ideas and babies, and boys and girls, so there's something festive and appropriate for everyone in the family this year! 
What Can You Put in an Easter Basket Besides Candy?
When thinking of Easter basket ideas for the family, you want to include a variety of treats and toys that kids can play with, but you also want to make sure you're not just filling the basket up with candy, since candy isn't good for their health and it's easy to find some better alternatives. So, the best ideas for basket stuffers could be swapping in Bobo's Toaster Pastry and Bobo's Oat Bites, as two healthy alternatives to Peeps and Cadbury Eggs, both of which lack nutrients. 
You can also DIY Easter baskets too and make your own treats—with your family too! Whip up a batch of marshmallow fluff from scratch, rice krispie treats, pure, dark chocolate fondue to then dunk in skewers of fresh fruit and marshmallows, and okay, even Peeps, if you can't resist. Plus, make your own healthy trail mix and granolas, oat bars, dried fruit medleys and other wholesome snacks, like roasted chickpeas and kale chips (your teens will love those for sure!)
As for the best stuffers, here's a guide for what to give your kids, based on their age group and gender.
The Best Easter Basket Ideas for Boys and Girls
Plush Goodie Bag Easter Egg Stuffers Set
Toddlers will love this set of plush toys for their easter egg hunts, and they come in a popular theme for boys and girls who are of a younger age (toddlers and kids mostly!) that'll allow for even interactive play later on. And what could be better than—animals from the zoo, right? With little plushy animals to play with, as well as keychains, and a variety of options, such as pigs, bunnies, dogs, giraffes and more, there's no shortage of playmates in this jam-packed zoo at home!
The Best Easter Basket Ideas for Toddlers
Carrot Bow Tie
How cute would your toddler look in this festive carrot bow tie? It fits nicely as a stuffer for most Easter baskets for boys, and you know it would make a great photo opportunity this Easter. Another option? A yellow baby chick bow tie would be also perfect for the holiday and spring season!
The Best Easter Basket Ideas for Kids 
A Personalized Book That's Bunny Themed
A book is always a great gift for kids because it helps them gain knowledge as they age, and it's even better if you choose a book about a bunny, which resonates with Easter. The My Snuggle Bunny book is a great choice for kids as a basket stuffer where you can personalize the book to include your kids' name, whether it's for an Easter basket for a boy or girl.
The Best Easter Basket Ideas Boys and Girls
Wooden Car Painting Set
Boys tend to love to build and do DIY craft projects, especially around toys of interest and those they'd want to play with at home. This Made by Me and Paint Your Own Wooden Car Set would be a great gift for kids and boys, since they can design their own cars (how cool!) and be able to let their imaginations wander during playtime with their customized creations fit for any race car battle or speed race.
Decorate Your Own Water Bottle 
Kids love DIY craft projects, and it's so important to hydrate as well, combine the two and add a customizable water bottle to your kid's Easter basket this year. This Purple Ladybug Decorate Your Own Water Bottle for Girls Craft Kit is perfect for any little girl who wants to decorate their water bottle so it stands out from the crowd! And the designs are super cute and girly, too.
And here's a trickier one, you may think…but don't fret—we've got the answer for you!
What Do You Give a Teenager for Easter?
Bubble Bath Bombs
Teenagers (even adults, right?) love soaking in the tub with bath accessories, like bubble bath, bath bombs, bath toys and other nice smelling or fun shaped soaps to lather up with. Add a couple of bath bombs that have Mochi squishy toys inside of them, which are also Easter themed, to Easter baskets for your teenager this year, so they can use them as part of their self-care routine and as a way to unwind in the tub and fight stress.