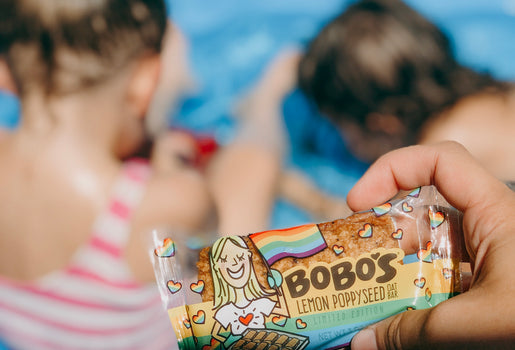 Beat the Heat with These Fun Summer Activities
Cool and Comfy Fun Summer Activities
Summertime is one of the greatest times of the year! There are no rainy days or cold temperatures to mess up plans with your kids. However, you do face blazing hot days that make those metal slides too hot for your little one's legs, and your summer activities can feel limited. The high temperatures can leave both you and your kids too pooped to even consider standing out in the sun, let alone run around in the heat. 
But never fear! You can still have summer adventures that will keep you and your kids comfy and cool. Below are some fun indoor summer activities that you and your kids will enjoy. Bring along Bobo's Oat Bars for healthy snacks on the go and make your summer outings that much better!
Take a Trip to a Children's Museum
Your kids will love exploring the exhibits, playing with any interactive activities and learning all sorts of new things.
Read Some Books at the Library
It's always great to snuggle up with a good book and relax. At the library, you have many book choices, and often there are kids areas where kids can run and play with train sets or sit and cozy up with their favorite story. Plus, it will be nice and cool in there!
Visit a Planetarium
It may be bright and sunny outside, but it will be dark, cool, and fun inside a planetarium. Your kids will be enchanted by the shooting stars and planets while you sit back and relax in a comfy, air-conditioned room.
Go to an Aquarium
Sharks and fishes and jellyfish, oh my! Aquariums are the perfect place to go on a hot summers day. You and your kids will love to walk around see all of the colorful fish and fascinating sea life, and there are typically kids areas throughout the exhibits where they can touch a stingray or a tiny starfish. What a cool story to tell their friends when they get back to school!
Throw a Strike at a Bowling Alley
Your kids will love the bowling alley and all it has to offer! There are often colorful balls the kids will love to pick from, and sometimes there are even arcades in the back where your older kids can play games and enjoy the A.C.
Watch a Movie
Going to a movie theater always proves to be a good time! Look up showtimes and explore the options of what kid-friendly movies are playing in your area, pack some snacks - like some Bobo's Chocolate Chip Oat Bites - and enjoy the show!
Bounce Around at an Indoor Trampoline Park
Indoor trampoline parks are a great way to burn off some energy while staying inside! They have several trampolines your kids can bounce and bounce on, and typically there are extra sections with ball pits or easy ropes courses for the kiddos to play on as well.
Many of these trips can take all day. Your little ones will get hungry, so make sure you pack snacks to stave off hunger while you're having fun! Bobo's Oat Bars are the perfect, easy snack for on the go.
Indoor Summer Activities You Can Do at Home
If you are looking for some fun summer activities to do indoors, without having to leave your house, look no further! There are many indoor summer activities at home that you can enjoy with your kids! Some of our favorites from this list of 101 activities are:
Watch Water Walk
Paint Rainbows with Balloons
Make Your Own Play Dough
Start a Game of Water Jump Rope
Get Playful with Balloon Tennis
If you and your little ones are ready to brave the heat, you can still enjoy something that cools you off!
Dive into a Local Pool
Have a Slip-N-Slide Party
Visit a Splash Pad
Battle it out in a Water Balloon Fight
There are plenty of fun summer activities to enjoy with your kids! If you want to soak up the sun, go to the pool or to a park! If you are wanting to stay indoors where your kids can play and learn, you can simply stay home and have your own experiments. Just remember to cherish your summer with your little ones.
As you are out and about with your kids this summer, remember to bring tasty snacks like Bobo's Oat Bars to keep your kid's energy up!