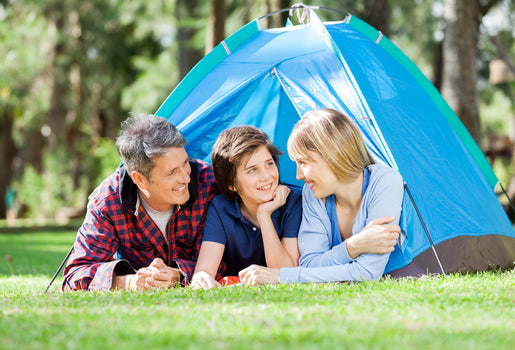 Backyard Camping for One Last Fast and Easy Summer Hurrah
Summer is quickly coming to a close, and with that comes to post-summer exhaustion. The heat and the busy summer have taken their toll on an already busy parent. You packed the kids up for camp, shipped them off to stay with the grandparents, did the annual zoo trip and amusement park adventures, and now you are ready to rest.
Perhaps you plan on staying closer to home and getting the family ready for the first day of school. Your kids, however, may have different ideas. They may be asking, "What's next, Mom?" You are not one to disappoint, and you want this to be the best summer ever! But there's one small problem, you are completely out of ideas.
How about a backyard camping for one last fast and easy summer hurrah? You can plan it for this weekend, or even tonight. While the kids are camping under the stars (in the safety of your backyard), mom and dad and catch the late summer rest they need. Sometimes summer adventures take you far away, but the best ones are usually right at home! 
Tips for Backyard Camping
Have the Right Supplies
Camping in your backyard can be fun! But, just like camping away from home, it's important to have the right supplies. A dry, sturdy tent is a must-have. Also, consider the little comforts of home that will help your children to enjoy the experience. Lanterns, canteens, sleeping bags or blankets, climate-appropriate pajamas, and bug spray are all little touches that will keep your kids comfortable on their outdoor adventure.
Set Up Together
Part of the fun of camping is setting up your camp! Remove any rocks or hard debris from the area before putting your tent down. Then, work with your kids to set up the tent! Encourage them to work together, read any available instructions and take direction. Pitching a tent is team building at it's finest! Not so much into assembling outdoor shelters? Try a pop-up tent instead!  
Make a Plan...
Consider all the fun things you might do on a camping adventure under the stars and then try them in your own backyard! Take a hike through your neighborhood and observe the trees, bugs and small animals that inhabit your area. Make use of items you already have in your home: binoculars for bird watching, a telescope for stargazing and even simple crayons and paper for leaf rubbings. Cap off the evening with a not-too-scary story or a game of flashlight tag!
Or Don't...
Part of backyard camping's allure can be the spontaneity. Give your kids everything they'll need, then let their imaginations run free while they explore the wilderness in the safety of their own backyard. A break for mom and dad sounds like the perfect ending to the summer!
Healthy Camping Snacks
While camping is often associated with less-than-stellar food choices, put a special twist on your backyard camping experience by packing healthy camping snacks. Bobo's Oat Bars make an ideal snack for backyard camping! Individually wrapped, nut-free and high in protein, your campers will have a delicious and satisfying option that keeps them full through the night. What's more, with so many varieties, everyone gets their favorite flavor.
Other healthy camping snacks may include easily transportable fruit like apples and bananas, a hearty trail mix or no-sugar-added fruit leather. And when it's morning, a spread of Bobo's Toaster Pastries will provide all the goodness of a bowl of oatmeal, without all the mess.
Just because summer is winding down, doesn't mean your family can't have one more hurrah. Backyard camping is an ideal way to squeeze in one last-minute, unforgettable adventure that the whole family can enjoy.