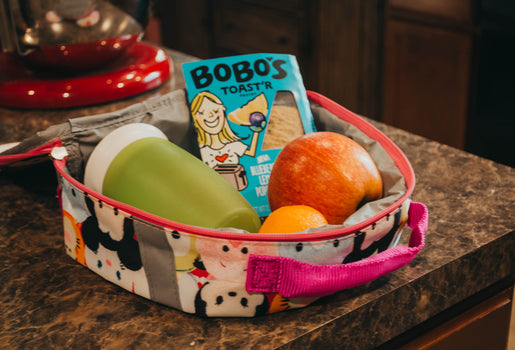 Back to School with Bobo's: Start the School Year Right
Back to School Essentials: Start the School Year Right
It's almost that time again. Summer has been a blast, but you're ready for your kids to head back to school (although they might not be quite as excited about it). It can be hard to get back into the swing of the school-year routine, so we've put together some of our favorite tips and tricks to make sure the transition goes as smoothly as possible.
Essential Supplies
Going back to school can be stressful for both kids and parents. But try making it fun by making an outing of shopping for new school supplies, or allowing your kids to pick which fun new pens they will use. Letting them be a part of the process not only makes them feel like it's their day, but it takes some of the stress off of your shoulders. And of course, don't forget these back-to-school essentials:
Notebooks
Pens and pencils
Backpacks
Lunchboxes
Anything specific your school requires (like calculators for older kids)
Clothes! (Let them pick out some fun back-to-school outfits, or make sure you have all the elements of their school uniform)
Athletic clothing for gym class and after-school sports
Healthy back-to-school snacks for their lunches and after school (like Bobo's Oat Bars)
Be Prepared 
Try to start getting ready for school several weeks in advance, so you're not running around like crazy the day before the kids go back. While it might be hard to avoid all of the stress that comes with the first day of school, by planning ahead you can help prevent it from becoming overwhelming. 
Get any school paperwork in order before the big day: immunization records, registration forms, and anything else your school requires.
Make a big family calendar to mark important school events and keep track of everyone's extracurricular activities.
Divide your kids' school supplies and organize them into the right backpacks.
Label everything! Your kids will still lose stuff, but at least you tried. Backpacks, lunch boxes, notebooks -- having some preprinted sticker labels makes it easier.
Layout those important first-day outfits the night before, along with their supplies.
Pack lunches the night before for an easier morning routine.
Speaking of morning routines, a smooth and planned out morning is the most important part of getting to school on time and stress-free. A day or two before the big day, do a "test run" in the morning. Get your kids up at the right time, and have them get dressed and eat breakfast as if they were going to school. Once you get out the door on time, reward them with a fun outing like a trip to the water park - a farewell to summer. You'll figure out any part of your morning routine that needs tweaking, and they won't be in such shock on the real first day of school.
Making breakfast might be what slows you down in the morning - consider a quick and easy breakfast like oat bars or toaster pastries on those mornings when you need to speed things up. Research has repeatedly shown the importance of breakfast for kids before heading to school. You don't want to skip it just because you're short on time.
Make It Fun!
Your kids might be excited to get back to school with their friends, or they might be nervous about new teachers and harder classes. Either way, do what you can to make the experience exciting and fun. A special note packed with their lunch, back-to-school photos before leaving home or a tasty treat in their lunchbox can help get them into the school spirit. Let them know that their feelings are valid while you work to help them find the fun aspects of school.
After their first day, make sure to welcome them home with a healthy snack and a sympathetic ear as they work through their big emotions about the new school year. Ask them meaningful questions to learn how they're dealing with the transition.
Back to School with Bobo's Oat Bars
Are there any back-to-school tips we missed? What are your favorite ways to kick off the new school year? And remember, every school morning can be made better with a Bobo's Toaster Pastry.