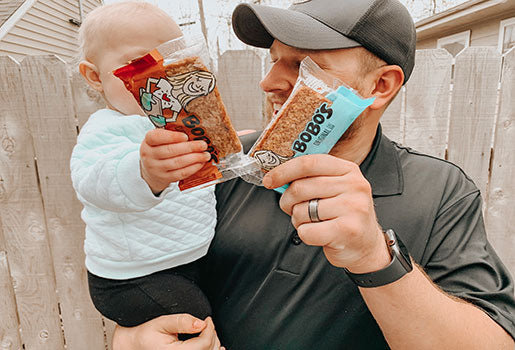 Father's Day Activities that Promote Family Love
Father's Day is the perfect time of year to celebrate the most important dads in your life. But instead of handing him the traditional tie or card, why not get a little more adventurous this year with an outdoor, Father's Day activity that exudes all the family love you share? You can provide the dad, grandfather, uncle, or husband in your life with memories that will last a lifetime. We're here with 7 ways you can get out, hit the trails, soak up the sun, and enjoy the world with the most important man in your life this Father's Day.
Father's Day Activities
Create Your Own Field Day
Most kids will remember when their school had some type of "field day," loaded with fun, outdoor, physical activities. The dad in your life may have aged a bit since then, but what man doesn't enjoy a little childish fun? On Father's Day, a little reminder of his fun silly side may be just what he needs. With a yard, field, or beach and a little innovation, you could create a unique and fun day filled with field day-like activities. Most of these activities are easy to plan, organize, and execute, and can help you enjoy the outdoors with your dad for hours. Some easy field day activities you could plan yourself include:
Water balloon fight/race
Egg/spoon race
Three-legged race
Treasure/scavenger hunt
Pass-the-baton/relay race
Freeze tag
Limbo
Ring toss
Obstacle course
Go On a Farming Adventure
If you're lucky, you happen to know someone who runs a farm. If not, there are bound to be some local farms that are always happy to lend a helping hand. Many farmers and community gardens are happy to educate people on farming and make you a part of the action for the day. Whether you're seeing what life is like on a dairy farm, picking your own fruits or vegetables to take home, or letting your animal-loving dad enjoy the livestock, a farming adventure is a surefire way to get outside and make some memories! You can even have a picnic or cookout with your picks afterward!
Hike a New Trail
Hiking is one of the best things you could do with any father in your life. No matter if he is a backpacking connoisseur or a hiking novice, this outdoor adventure could be an ideal choice this year. If you want to stay close to home, plan a light hiking trip through a local trail. Or if you're looking to go all out, plan a hiking trip on a new, exciting trail. Whether it's a few hours or a weekend-long trip, hiking provides you and the father in your life an opportunity to bond, create memories, experience new things together, and have fun! Remember to make your hiking adventure even more enjoyable for dad by packing all the right essentials: healthy snacks, a picnic lunch, and more!
Enjoy His Favorite Sport
Does the man in your life enjoy the more extreme things in life? With work, family, and life swirling all around, our favorite men may not be able to partake in their favorite hobbies as often as they'd like. Take your dad mountain biking this Father's Day and let him be a little reckless. Give him a dirt bike or motorcycle on an off-road track, go rock climbing, or help your dad live out his fantasy by driving a race car! Take a trip to the beach and get your dad out on the water for some waterskiing, wakeboarding, or jet skiing. And go one step further, get dad a Bobo's Oat Bar Hat to keep the sun out of his eyes and to always remember your special day.
Go Golfing or Hit the Driving Range
Golfing is enjoyed by millions of men all over the country. Not only is it an active sport that keeps you outside it's also an excellent way to balance exercise and fun, with relaxation. This Father's Day, why not take your dad for a round of golf? Or go hit a bucket of balls at the driving range? Little ones can even get in on the fun since most dads would welcome the opportunity to teach their little ones how to swing a club.
Catch Some Fish
Even if it's at your local pond, any dad would love the opportunity to go relax and catch some fish! Maybe you could plan an exciting, fishing excursion or hire a professional fishing charter to take your dad to the best fishing spots. No matter the location or your skill level, your dad would love to enjoy the water, nature, and catch a few fish in the process.
Go Camping
Camping is a time-honored tradition that has been passed down from fathers for generations and generations. Planning a camping excursion can be a great way to tell the dad in your life you appreciate and love him. It's also a terrific way to have fun and make memories that will last a lifetime. Whether it's one night or a weekend, in an exotic place or in your backyard, every dad is sure to enjoy the experience of camping with their loved ones! Be sure to bring a camera to capture your favorite moments!
DON'T FORGET THE SNACKS
When you're out enjoying the beautiful outdoors with dad this year, you'll need the right snacks to fuel your fun! To keep dad energized all day, remember to pack some healthy, whole grain options for slow-burning energy. And don't forget that every outdoor adventure deserves some protein-packed snacks to give dad that extra boost he needs while enjoying the family love! Show your dad how you care by filling both his heart and his stomach.
Family Love on the Agenda
Promote the family love you share with your dad this year by taking him on an adventure he won't soon forget! This year, celebrate the wonderful dad in your life with a thoughtful Father's Day activity that will have every member of the family smiling, laughing, and loving- and don't forget to bring the healthy snacks!
Sources: