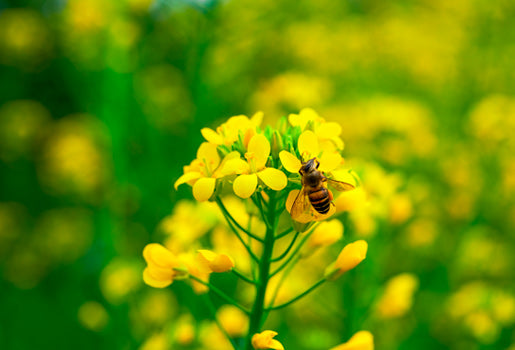 Our Bee Friendly Initiatives
HOW TO BEE FRIENDLY
We believe in taking care of our bees
If it weren't for bees, there would not be any almonds!  Almonds, among many other plant species, are not self-pollinating; therefore, they require bees to pollinate the trees so that they will bear nuts to harvest. We use almonds in select varieties of our product as well as Honey in Bobo's Nut Butter Protein Bars so it is very important to us that bees are protected!  If you want to know a lot more about the bees, what they do, and what our suppliers do to ensure their safety, keep on reading!
Protecting the bees with sustainable action
Our almonds are sourced from family farms and responsible suppliers that strive to create healthier and more self-sustaining environments for the existing native bee populations as well as aiming to attract more native bees.  This includes practices like planting native plants and shrubs that have different bloom times throughout the year to supply an attractive food source for them year-round.  They also plant a flowering ground cover mixture that will supply food for the bees and leave the native grasses un-mowed by alternating the chopping cycle so there is always food from the flowers. 
Bee-friendly actions our suppliers take.
Leaving part of the orchards' almond rows natural grasses rather than 'chopping' the entire vegetation. 
Planting a special flower mixture in orchards that offer additional honey bee food in efforts to increase the native honey bee population.
Planting native bushes and plants that attract the bees and create a safe forage area for them. 
Bringing in local beehives to assist with the almond pollination of local bees, not freighting them from across the country.
Using IPM, (integrated Pest Management) practices, rather than spraying insecticides.
Did you know that 70% of our food and plants depend on bees?
We need bees to grow almonds and produce honey!
The problem
With bees being such an important part of the human, plant, and animal life, we must pay attention to them more than ever because they are in danger! These complex and amazing invertebrates need our attention. The drastic decline in the honeybee colonies is no easy problem to solve. Their struggle for survival seems to be a very complex problem caused by a combination of stressors. 
There are three known contributors to the struggle:
More specifically the parasite, Varroa.
The decline of forage sources for nutrition caused by habitat alteration and fragmentation.
Pesticide use and its effects on the bees.
The solution
The solution is to take action! As there has been a growing initiative for both government and private organizations to make their contribution to helping save the bees in research to better understand the problem and finding solutions we still have a long way to go.
How can you help save the bees?
Support us, we'll donate towards bee protection and research. We understand the need to support the delicate lives of bees and strive to encourage their protection and wellbeing. That's why a portion of each gallon of honey we purchase goes directly to the People and Pollinators Action Network (PPAN). PPAN works to promote sustainable agricultural practices and improve our environment by creating a movement to build community awareness, change policies and support best practices in pollinator conservation. Please help us in supporting bees by donating to PPAN or any of your local pollinator protection efforts.
Plant native plants in your own yard and garden. This will give the native honey bees the best bet for safe foraging areas and will give them good nutrition.
Spread the Word! The more 'buzz' about the bee crisis, will raise awareness and make people more responsible in their personal choices in their home gardens or landscape, as well as their political choices that could affect the future of bees.