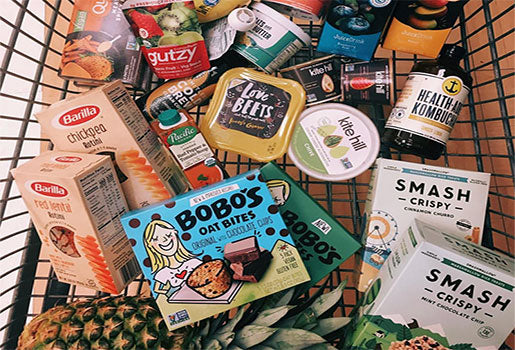 Easy to Make Healthy Snacks with Local Fresh Produce
Easy Healthy Snacks with Fresh Produce
Warmer weather is finally here - what better place to soak up the sun and find local, fresh produce than in farmer's markets? As you wander through the inviting booths and chat with local vendors, you may find yourself entranced by the brightly-colored produce options on display--but which fruits and vegetables are the best for easy to make healthy snacks? 
If you don't have the option of browsing a farmer's market, check out your local natural grocer or co-op for seasonal fresh fruits and vegetables sourced from local farms. And of course, don't forget to throw a Bobo's bar in your bag in case you get hungry while you shop!
Local Fresh Produce Buying Tips
Tip 1: Just ask!

If you are perusing a farmer's market and want to know more about where the carrots or apples are coming from, start by asking the vendor. Vendors are proud to share their organically grown, healthy fruits and veggies with the public; and will gladly share information about where they came from and how healthy they are.
Tip 2: Do a Little Prep Work!
Farmer's markets can be a bit overwhelming at first, and it can often be hard to know which produce is in season or what is not. Doing a bit of research about what grows locally in your area and what produce is in season will go a long way. That saves a headache of getting to the market and being disappointed they don't have what you want, or being overwhelmed with the mass of goods.
Tip 3: The Early Bird Gets the Worm —  And the Best Produce!
Not only are farmer's markets less crowded right as they open, but the best produce hasn't been snatched up yet. If you want the best of the best, get to the markets at the very beginning of the day (or whenever they open). 
Easy to Make Healthy Snack Ideas
Veggie Tray and Dip
Take a look at the vegetables offered in your local farmer's market. Do you have carrots? Zucchini? Squash? What about cherry tomatoes? As you walk through the stands, consider what you and your family love to eat raw.
Cut up lots of fresh, crunchy vegetables, then add your favorite dip. You might even be able to pick up a new dip from the farmer's market, or you might want to mix up a creation of your own. 
Vegetable Chips
If you frequently get the munchies and want to chow down on salty chips, don't despair! You can take your favorite unhealthy snack and replace it with a healthy alternative using local vegetables. Many of these healthy chips are the perfect carrier for your favorite dip--or you can enjoy them on their own for a satisfying crunch. Some of our favorites include: 
Smoothies
No matter what the season, smoothies are always a crowdpleaser. Choose your favorite fruits and veggies, then combine them with milk or coconut water. Add in healthy extras like oats, flax, or chia seeds for a nutritional boost. Smoothies are fast to throw together and easy to drink on the go, which makes them the perfect healthy snack option for spring and summer. Click here for Bobo's Lean Mean Green Coconut Smoothie recipe!
Add Fruit to Yogurt
Toss fruit over your favorite yogurt or stir it up to ensure that you get that fresh, fruity flavor in every bite. Even better, crumble up a Bobo's Oat Bar for a healthy nutritional boost that will add a fantastically, filling texture to your snack. Fruit and oatmeal bars are also a fun and healthy addition to your summer ice cream fix.   
Toss It On the Grill
Are you grilling up a feast for a party or an evening outdoors? Try mixing in some fruits and vegetables! Grilled fruit skewers will help you bring out the natural flavors in your fruit and make them even sweeter while tossing your vegetables on the grill will add a fantastic pop of fire-roasted flavor that everyone will love. 
Bobo's Oat Bars - The Ultimate Easy to Make Snack
Finding healthy spring and summer snacks made with fresh produce is one of the best parts of the season. Take your kids along with you as you head to the farmer's market, maybe even pack one of our Bobo's Oat Bars for the ride, and let them pick out the fruits and vegetables they'd like to try so you can experiment with new recipes together. Consider taking a look at recipes online before you head off to the farmer's market, or check out the stands to see what recipes local farmers are offering.
Kids will often take an active interest in the cooking process, and they'll be much more likely to try something new if they've had a chance to help. This means that not only will you have engaged in a fun activity together; you'll have set the stage for healthier eating habits in the future. Bon appétit!