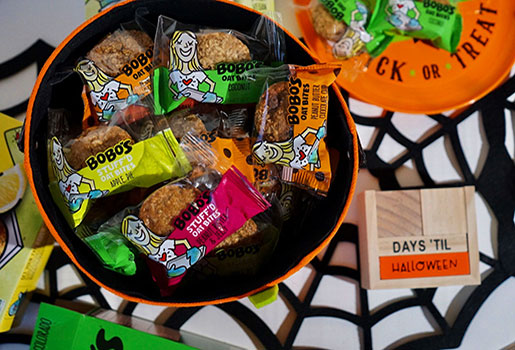 Delicious, Healthy Snack Ideas for Your Halloween Party
Halloween is an incredibly fun time of year that's perfect for bringing friends together. Kids and parents alike love celebrating this spooktastic season. This is a great time of year for sweet treats and fun--but it's also a time of year when good eating habits can slip and be replaced with some not so healthy ones. It's time to throw a Halloween party that focuses on both health and fun, allowing you to keep your ghoulish figure while enjoying a fantastic party. Keep reading to learn about some healthy Halloween snack ideas and ways to make this Halloween season the best and healthiest yet! 
Gluten-Free Halloween Treats
1) Gluten-Free Candy Corn Cupcakes
Candy corn is a staple of Halloween, and extremely tasty! But how about a healthy option that also uses this delicious treat while being gluten-free? These gluten-free candy corn cupcakes will make your kiddo's mouth water while helping adults keep their healthy eating in check.
2) Lil' Ghosty Guys Sugar Cookies
Not all things that say "Boo!" have to keep scary. These adorable little ghost cookies will be the highlight of any Halloween bash! By simply using gluten-free flour and a couple of chocolate chips, you can transform regular dough into some cute little ghosty treats for this Halloween!
3) Gluten-Free Pumpkin Pie with Praline and Coconut-Pecan Crust 
Who doesn't love a nice, warm pumpkin pie come Autumn? But finding good gluten-free recipes can be challenging at times. But look no further! This yummy gluten-free pumpkin, praline, and coconut-pecan crust pie will be the envy of everyone at the next Halloween party.
Planning Your Party
Okay, so it's time to set the stage for your Halloween party. Ask yourself these key questions.
How many kids are coming? How many adults? The number of people you have attending your party can significantly impact what you're able to do throughout the event. You want to have plenty of treats on hand for everyone.
How are you going to keep the kids entertained? If you're inviting adults to your party, you might want some time for some "adult fun". (Time for cocktails!) Try some of these great ideas to keep the kids laughing while you have a little fun together, too.
Offer pumpkins to paint. There are no knives involved, and the kids can have a blast! If you do the painting outside, adult supervision is minimal.
Bowl with pumpkins. Set up two-liter bottles and roll pumpkins down to the end of the lane for a spooky finish!
Consider a fun, kid-friendly movie: The Nightmare Before Christmas, Hocus Pocus, Halloweentown, or other family-friendly favorites are sure to be a hit.
Create a fun witch's hat ring toss game.
Design a spider web and let kids navigate it. You can construct it out of yarn or create a web out of masking tape on the floor. Don't step on the web, or the spider will come out!
Healthy Halloween Snack Ideas
Healthy snack ideas...they don't have to be the bane of your Halloween party! Bringing healthy snacks to your Halloween bash can help prevent the dreaded sugar high and crash, keeping your younger guests on an even keel throughout your holiday celebrations.  
Try some of these healthy Halloween snack ideas to create a memorable Halloween party for all of your guests:
1) Make some tasty pumpkin rice Krispies treats that will make any Halloween goodie table even better!
2) Create "ghosts" out of strawberries dipped in yogurt and frozen, with little chocolate eyes and mouths.
3) Design a jack-o-lantern veggie platter that will get even your young guests excited about the vegetables.
4) Construct small, individual servings of fruit: Frankenstein's monster grape cups of mandarin orange cups with jack-o-lantern faces drawn on, for example.
5) Add Bobo's Peanut Butter and Chocolate Chip Bites or Apple Pie Stuff'd Bites to the table
6) Carve up a watermelon as a Halloween monster.
As is to be expected, there are several reasons why it's critical to maintain your healthy eating perspective throughout your exciting Halloween celebration. Consider: 
It's never just one party. There's one party at school, one round of trick-or-treating (or several, depending on timing throughout your community), and one party with friends and family members. When the holiday season comes roaring in there are even more opportunities to forget those healthy eating habits.
You get a chance to show kids that healthy eating can be fun--and yummy!--too. Colorful wrappers and fun characters entice kids into unhealthy eating habits at many Halloween parties and events. If you make healthy eating fun, you can show the kids in your life that healthy eating isn't dull and boring.
Include principles of healthy snacking basics. You're probably setting up a table of food for your event, allowing guests to munch at will. Keep these healthy snacking basics in mind:
Offer several types of nutrients. This may include some carbs, some protein, and some fruits and vegetables.
Provide small portion sizes. This will allow everyone to sample many of the dishes you've made available.
Keep the sugar in check. Sure, there are plenty of fun Halloween snacks available that are filled with sugar, but that doesn't make them the right choice for your party!
Ask about food concerns and allergies. Do you have guests, especially young ones, who are sensitive to dyes? What about guests with food allergies? If you have a general idea of what dietary requirements your guests have, you can create a better menu that's more likely to fit everyone.
Serving up the perfect Halloween party doesn't have to be monstrously difficult--nor does it have to lead to a scary sugar crash. With these fun party ideas and these healthy Halloween snack ideas, you can create an entertaining and scrumptious Halloween party that will have everyone eagerly anticipating a repeat for next year. And as always for a healthy snack option, grab a Bobo's Oat Bar for a tasty treat along the way! Happy Halloween!