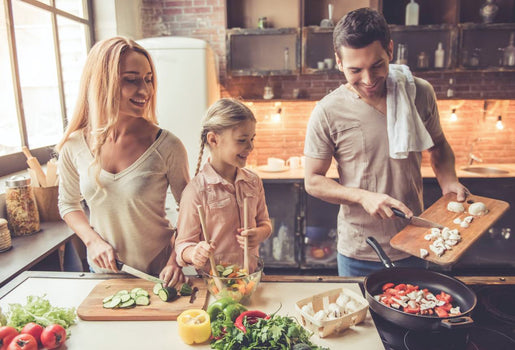 How to Be More Productive at Home
Staying at home all day can get dull fast, and it's hard to stay productive when you're tempted by a few things calling your name. Think: the fridge, television, and other fun and games lurking around your home. Yet, you can learn how to be more productive by centering your attention on direct goals and removing any factors that might be especially distracting. (Hello cookie jar, television remote and phone!)
Once you adjust to a set routine with your goals in mind, you'll know how to be productive for hours in the day without leaving your home. Here are a few ideas to get started, so you can better focus your mindset and gain that willpower to get through your work and treat a workday at home just as you would a day at the office.
Tackle Projects You've Put Off
If you're looking for productive things to do at home instead of watching yet another episode of your new favorite Netflix show, tackle a project you've been putting off for a while. Now is the time to do it!
A productive thing to do when bored might be to clean out the closets or sort through clothing, setting aside into piles for give-away/donate, keep, and discard. This will provide more room in your closets for new clothes and accessories, and it will give to those in need who could really benefit from the added goods. Or maybe you need to fix something in the kitchen—now is the time to grab the tools and get to work. Anything around the house that needs some tidying up is a great thing to check off your list!
Learn How to Cook a New Dish
Instead of ordering takeout again or relying on old recipes, use this free time to figure out how to be productive at home in the kitchen. You can learn a new skill or recipe, or you can even figure out how to utilize a new machine, such as an air fryer or Instant Pot. And if your partner or kids don't know much about cooking, include them. This will be especially productive for everyone as it gets the whole family cooking up a storm at home and learning great skills themselves!
Organize Drawers
Have a bunch of filing cabinets that are a mess? Now is the time to be productive and organize them. You can toss out old documents and sort through the ones you have to create a better system. Bills, medical records, and more—these are things you want to know the location of with ease. You can even organize drawers of other items too, such as clothing, other accessories, and even kitchen tools and appliances. Go through one room at a time and check them off the list.
Grab a New Book
Most people don't have enough time to read anymore. Due to work stress and tending to the kids at home, reading for pleasure is often only for airplanes and time on the beach. Yet, if you have more time at home and are bored and want a fun activity that also uses your brainpower, try reading a new book.
You can read on Kindle or iPad, as a book, in an audio format, or even with your kids, depending on their age and the book's context. And if you don't want a book, you can also do trivia or crossword puzzles, both of which will also boost cognition.
Do a Deep Cleaning 
You might mop down your kitchen floors, wash the bathroom toilet and sink after use, and keep your countertops and cabinets rather organized and clean, but when did you last do a deep cleaning? Probably not in a while! This means you're really scrubbing at small nooks and crannies in the kitchen, bathroom, and bedroom, and you're likely spending a few hours going through the whole place!
If you're at home with time on your hands, do a deep cleaning in one or all of your rooms to really make each area sparkle and shine. Clean the fridge (and under it), the stove and all appliances, and even the spice rack. In the bathroom, clean the knobs, the floor, and even behind the toilet. You will feel so accomplished after!