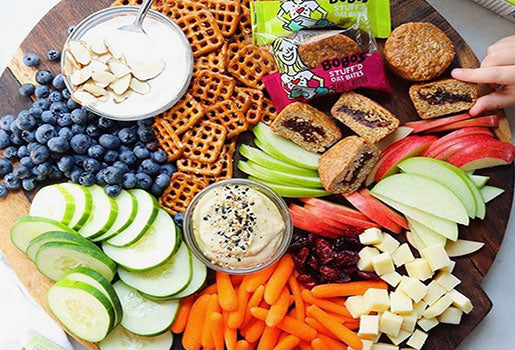 Beryl's Blog: Healthy Holiday Snacks & Other Hosting Tips
5 Holiday Hosting Tips
I love hosting guests, especially during the holidays, but I also know how easy it is to start stressing about their presence. Below are some simple holiday hosting tips I discovered can help decrease those stress levels and make having guests fun instead of stressful. (Hint: The way to a guest's heart is through their stomach!) 
Holiday Hosting Tip #1: Make Healthy Holiday Snacks Available 
Being surrounded by friends and loved ones is one of my favorite ways to spend time. It doesn't take much, however, for "fun" to transform into "stress" at the holidays. For this reason, I always make sure to have healthy snacks available for guests at all times.
It's easy to get tempted by holiday treats, so having healthy holiday snacks on hand can serve as a reminder to eat healthy every once in a while! I might be biased, but I'm a big fan of Cranberry Orange Bobo's Bars, especially during the winter holidays.  
Holiday Hosting Tip #2: Focus on What Guests Will See First 
Where do guests typically enter your home? What are the first things they'll set eyes on? When that front area is clean, you'll find that guests are more likely to perceive your home as being clean, even if there's clutter in other locations.
Take a minute to shake out the welcome mat, dust the entryway, and sweep up the floors. Pay a little extra attention to sofa and chair legs, where dust is more likely to gather. In just a few minutes, you can quickly create a better first impression of your home, which will make your guests feel more welcome from the moment they walk through the door.
Holiday Hosting Tip #3: Maintain the Kitchen
Doesn't it seem like no matter how much attention you pay to get the rest of your house ready, guests always seem to congregate in the kitchen?
Keeping the kitchen tidy does wonders for my peace of mind when my house is filled with holiday guests. When I'm preparing healthy holiday snacks, I make sure to clean as I go. If I'm having too much fun for a full clean, at the very least, I try and get the dishwasher loaded and started so I don't have to deal with it later. Don't be afraid to ask your guest to pitch in either - people love helping! 
Holiday Hosting Tip #4: Create a Homey Scent
It's amazing how our senses all work together to create our perceptions. Your sense of smell, for example, can help convince you that the home is clean, even if it's looking a little dusty around the corners. Add a fresh citrus scent by sprinkling essential oils in your air return vents--or use a diffuser to spread the scent throughout a specific room.
If you want a more homey, inviting scent, try sprinkling a little vanilla in the oven and turning it on for a few minutes (preferably before you store your dirty dishes in it). Even if you've been cooking, the scent of vanilla can help welcome guests and make them feel right at home. Conversely, if you've been cooking all day and the smell in the house is getting a little heavy, try opening a few windows or pushing open the door for a little while. This will help air out the house and make sure that your guests get a great first impression. 
Holiday Hosting Tip #5: Have a System
Are you running around in a frenzy because you know guests are coming and you just aren't ready? Start with a system. Sweep through and pick up clutter in the rooms that everyone will see first. (Remember, rooms that they won't see aren't important right now--you can save those for after your guests are gone!) Then, clean from top to bottom, so that you're knocking dirt and debris down to the floor before you've cleaned it, not after. Work from left to right or work counterclockwise through each room so that you can be sure you've hit all the important places. With a system in place, it's easier to see where you've been and what you still have to do, too. 
With these holiday hosting tips, it's easier to get the house tidied up, while you focus on more important things - like food, drink, and of course your guests!