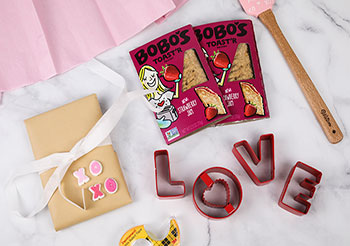 Beyond Chocolate: Healthy Valentine's Day Treats & Gift Ideas
Who doesn't love "love"? We're always in the mood to celebrate how much we care about each other. But with Valentine's Day comes a large amount of sugar: huge boxes of chocolates or an endless supply of candy hearts that leave you feeling sick to your stomach. This year, we're taking a stand. Show your love in other ways, with handmade cards, decorated picture frames, healthy snack bars (helllllo, Bobo's Bites), and more. Let's skip the candy aisle this year and show your special someone that you care about them - inside and out!
So whether you're shopping a few weeks in advance or the evening before Valentine's Day, we have a few ideas for you in our creativity bank.
Candy-Free Valentines Day Ideas
1. Handmade Love Letter 
Who doesn't love a homemade love note? You can go big with your arts and crafts skills with these ideas from Hey Lets Make Stuff or you can go simple with this one from Make and Takes --- both will make your special someone feel loved and appreciated. If all else fails, grab some red, pink and white construction paper, a little glue, and some stencils and go to town. Top it off with a cutesy sticker, attach a healthy Bobo's Strawberry Jam Toast'r Pastry for an extra treat and you're good to go!
2. DIY Bath Bomb (Or Store Bought, we won't judge) 
Everyone deserves a little TLC from time to time, and what better way to relax than with a bath bomb? Gift your special someone with a homemade bath bomb using this amazing recipe from The Suburban Mom. Or you can splurge a bit and snag these from our friends at Pacifica Beauty. Whatever you chose, know that your Valentine will love being gifted with a caring, and relaxing bath bomb for Valentine's day.
3. Bobo's Chocolate Chip Oat Bites 
If you're looking for a treat that isn't too sweet, look no further than our Chocolate Chip Oat Bites. 100% Whole Grain Oats with tiny chocolate chips for just a bit of sweetness without any of the guilt?! Yes, please! Wrap them in a little red box, or in a big heart-shaped one for some extra pazzazz! 
4. Flowers 
Go ahead and call us basic because flowers are the absolute best gift to receive on Valentine's Day. They brighten up your home - and your day. Not to mention that you can purchase flowers anywhere or make your own bouquet. Move past the clicheé of buying roses. Orchids, tulips, and lilies are also fantastic options for your special someone. Try to find a local florist to support or order from Teleflora.Com if you're in a pinch. 
5. Custom Picture Frame 
Last, but certainly not least, is a thoughtful custom picture frame. You can design one on Artifact Uprising or DIY it from your local Michaels store. No matter what you choose, this is a gift you can keep in your house forever to remind you of the love that you share. 
Regardless of what your Valentines Day gift looks like this year, do it with heart. Whether it's a handwritten note or a custom-made picture frame, make sure that your significant other feels loved and cherished this holiday season. And if you're still at a loss of what to do, healthy and delicious Bobo's Oat Bars are always a good option. Happy Valentine's Day from all of us at Bobo's!