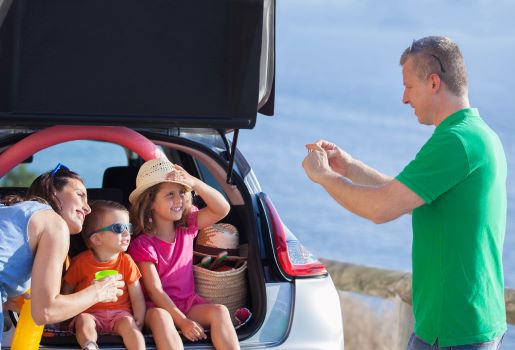 Best Travel Snacks for Summer: How to Pick The Best!
Best Travel Snacks for Summer: How to Pick The Best!
Summer is the perfect time to embark on outdoor adventures with your family. Whether it be camping, rock climbing, white water rafting, or walking around all day at the kid's favorite theme park, one thing is for certain: You're going to need energy. But how do you keep the kiddos full and satisfied in between breakfast and lunch without sacrificing their health? What are the best travel snacks?


We often eat differently in the summer, and not for the reasons you might think. Summertime adventures require constant energy to enjoy every single day of your vacations and camping trips. Which is exactly why it's important to plan with the best travel snacks out there.
Best Travel Snacks For Summer
In the summer, it's tempting to fuel your adventures with sugary snacks and caffeinated cola, but these don't provide the kind of muscle-building energy you need for real adventures. Snacks that will keep hunger levels low and energy levels high are the wiser way to go. Not to mention, you don't want to get your kids hooked on caffeine when high-energy snacks and the natural power of childhood is all they need to keep on adventuring. Below we have a list of great, healthy snack options for traveling during the summer that can be assembled and found at almost any grocery store!
1) Mixed Nuts and Trail Mix
Most nuts and legumes have a fantastic supply of protein and fiber that can give you that real energy boost you need. This is why nut mixes and trail mix packs are so popular for hiking and other summer adventures. It's easy to eat with your hands, is nutritious, and will keep all day long in a car or backpack. Throw some peanuts, almonds, dried fruit, and even some M&M's as an added treat into a go-bag and you and the kids will be satisfied all day long!
2) Oat Bars
Oats are packed with protein and contain healthy trace elements of other nutrients like manganese, magnesium and vitamin B, which make them a great staple for a healthy snack! Anything made with oats can boost your energy and make it easier to wait until dinner time to really chow down. Even simple pressed oat-granola bars are can become a mini-meal if you add a little peanut or almond butter. Bobo's Peanut Butter Chocolate Chip Oat Bars are a quick and easy snack to throw into a diaper bag or backpack for a busy day out!
3) Peanut Butter Crackers and Protein Bars
Peanut butter, preferably all natural, is a great source of protein, and the creamy or crunchy texture will make even the pickiest kiddos say "yum!" Peanut butter crackers, cookies, and protein bars all pack a real punch, and will leave you and your family feeling full for hours! A Bobo's Peanut Butter Toaster Pastry is the perfect choice for a quick morning pick-me-up. Peanut butter crackers and cookies are also a great vending machine option when you really need an energizing backup snack for you and the family. 
4) Cheese Sticks or Cubes
Cheese is a fantastic snack for summer if you have a small cooler or even an ice-pack pouch. Cheese sticks and string cheese are fun high-protein ways to fuel up during a picnic lunch or a quick stop on the hiking trail. Cheese cubes, on the other hand, can be kept in baggies for toddler snacks or served with little toothpicks to keep a summer birthday party rolling all afternoon long. Don't worry about the calories if you're going to sweat them off, and look for cheese made from low-fat milk. You can also pair the cheese with some whole grain crackers and grapes for a more hearty travel snack pack!
5) Almond Butter
Almonds have plenty of protein on their own, so almond butter is a natural addition to our healthy snack food list. Like peanut butter, almond butter can make any snack healthier and more protein rich. Whether you spread it on a cracker, an apple, or stuff it into a delicious Bobo's Chocolate Almond Butter Stuff'd Oat Bar, adding almond butter to your daily adventures will be rewarding and satisfying.
6) Jerky or Meat Bites
One of the best travel snacks would have to be packed jerky or little meat bites. Full of protein and flavor, these little packages of meat will keep for days and will give you and your family some much-needed bursts of energy during those long travel days. Choose from turkey, beef, and chicken at most local grocery stores, or try Thrive Market's Snack Mates.
Ready, Set, Snack!
In a world full of processed foods and busy summer days, the easiest option for fueling the family might seem like just throwing a bag of chips in the bag and calling it a day. But there are so many alternatives to unhealthy snacking for those adventurous travel days. The best travel snacks are the ones that are filling, keep for hours or even days, and are healthy for everyone! And if you're ever in a pinch, you can always grab a Bobo's Oat Bar and feel full and satisfied until the next meal time!