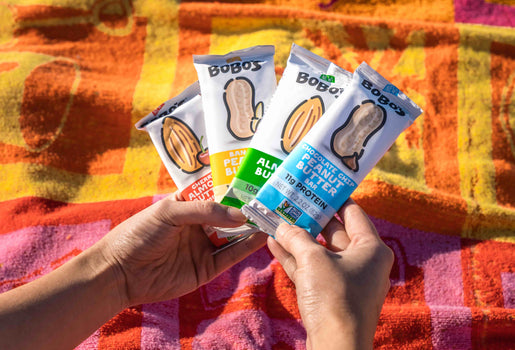 Beryl's Blog: How Bobo's Nut Butter Plant-Based Protein Bars Came to Be
Healthy Life, Happy Life
Throughout my life, and especially during the growth of Bobo's as a business, I have found it very important to have a work-life balance.  Healthy nutrition has always been a staple to my success in order to keep sharp and focused.  The original Bobo's Oat Bar, which was created with my daughter in our home kitchen, was delicious but dripping with lots of unhealthy corn syrup, butter and refined sugars.  I immediately swapped these ingredients for more good-for-you options, choosing instead oats, brown rice syrup, coconut oil, and non-refined brown sugar. Over the years we have been constantly improving on the quality and taste of this original Bobo's, however we are and will always be baking with these same four original main ingredients.  I have always thought that the most important things about Bobo's are the fantastic taste and health benefits. I've never wanted to "engineer" something that might meet a certain nutritional function measured in grams of protein. Now, after many years in this industry, I have learned not to be overly committed to one idea, and to keep an open mind being cognizant of consumer demand.  With the evolving times, we developed and brought to market our Stuff'd bars, Bobo's Bites, ToasteRs, but still we weren't done.  These recipes are again made with your taste buds in mind, and not grams of protein.
You Spoke We Listened
We here at Bobo's realized that consumers have been craving higher protein content in their bars and we were ready to welcome the idea of a plant protein product in our baked portfolio of goodies.  The key for us was to create this product without sacrificing our brand mission, which is to bake a wholesome healthy product and feed you like family and as always, with love.
This February, Bobo's was thrilled to announce the launch of our latest product line, Bobo's Nut Butter Protein Bars, which come in four delicious flavors, are packed with almonds or peanuts, and 10 g of vegetarian, plant-based protein.  They seriously keep you full and energized for all activities and are made with the same whole grain oats you know and trust from all of our Bobo's products.
The Perks of Protein
Protein has been found to be a critical component to providing you energy, and supporting your mood and cognitive function.  It also helps keep your immune system strong, reduce risks for cardiovascular disease or diabetes, maintain a healthy weight, curb appetite, and so many other benefits.  During my day I have found it can be difficult to get in the daily suggested amount of protein per meal (15-20g per meal and 6-10g per snack).  If Bobo's has made it easier for you to hit your daily protein goal and live a healthier lifestyle, like they have for me, then we could not be happier.
What Makes These Plant-Based Protein Bars Different From Others?
Well because they taste delicious!  Taste has always been our number one priority.  I would be very disappointed if we ever did not deliver on our promise to treat your taste buds with love, and I know you feel the same way about feeding your own family.  Knowing that most people eat protein bars for function over flavor, we created a product that met both of those needs and you will be EXCITED to eat. Give the new Nut Butter Protein Bar a try, I promise you won't be disappointed.