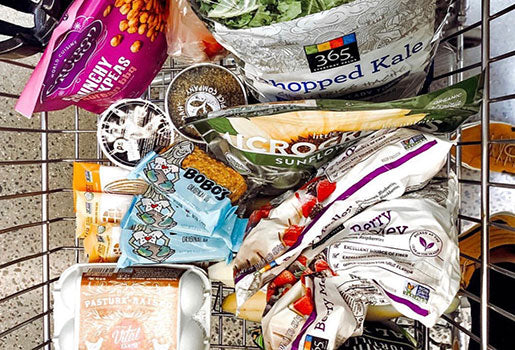 8 Ways to Shop Consciously at the Grocery Store
Shop Consciously at the Grocery Store

When you embark on your weekly trip to the grocery store, you don't want merely grab whatever is handy and throw it into the cart. You want to offer healthy foods for your family, whether you have a family full of young children or kids who are entering high school or even college. Do you know how to shop consciously at the grocery store? If you're not sure, we are here to help! 
Shopping Healthy, Shopping Consciously
Are you ready to dive in with healthier shopping on your next shopping trip? Getting started isn't as difficult as you think. Here are some helpful tips to know which healthy snacks to buy at the grocery store.
Make a Grocery List
Do you ever fall into the trap of dashing through aisles and grabbing whatever food strikes your fancy? Often, that's a great way to end up with a cart full of unhealthy foods. Instead, take the time to make a grocery list ahead of time. Plan your meals for the week. You don't have to know exactly what you're going to eat every day, but by taking the time to put together a grocery list based around a healthy meal plan, you'll select healthier options at the store (and, as a bonus, you'll know what you have on hand to fix on those busy nights when it's hard to get everything together). 
Read Labels
Sure, that box of crackers looks bright and appealing--not to mention tasty--but do you really know what's in it? Take a look at the labels on your snack foods. Make sure you're avoiding unhealthy choices as you read the label for:
Sodium content. In kids, in particular, too much sodium can cause significant health problems. 
Whole food ingredients that you recognize. The more difficult it is to pronounce the ingredients list, the greater the odds that you're ending up with ingredients your kids shouldn't be eating.
Artificial colors. Stay away from artificial colors, which can cause behavior problems in some children.
Choose non-GMO and organic ingredients whenever possible. 
Calorie content. Carefully consider what your calorie goal is for snacks. In general, snacks should make up 25% or less of your daily calorie consumption. 
Shop the Outside of the Store First
While you'll likely need to venture into the center aisles for things like gluten-free crackers or trail mix, you should do the bulk of your grocery shopping around the outside of the store: fresh fruits and vegetables, dairy, and meat, as well as fresh-baked grains. 
Make Sure Your Diet Includes Plenty of Whole Grains
Complex whole grains leave you feeling full longer. They also provide a slow-burning source of energy that can keep you and your kids moving actively through the day. Don't be fooled by everything you read about Paleo and Keto diets! Fresh, whole grains will always be a foundational element of good nutrition, especially for kids, who need those great nutrients to help them grow and move.
Incorporate Plenty of Fruits and Vegetables Into Your Diet
Fresh fruits and vegetables are the perfect snacks. They're often compact, easy to take a long, and filled with important nutrients you need for your body to function at peak efficiency. Fruit is great for adding a little energy boost in the middle of the day or when you hit that mid-afternoon slump. Filling your plate with vegetables at mealtime is a great way to avoid overeating. If you aren't sure how long it will take you to eat fresh fruits and vegetables or worry that they will go bad, try picking up frozen vegetables, instead. 
Check Expiration Dates
Expiration dates are important on both fresh and frozen food. You can buy the healthiest items in the grocery store, but if they go bad before you can eat them, you'll end up defaulting back to your favorite unhealthy foods. Carefully check expiration dates to ensure that you choose food that won't go bad before you have a chance to eat it. 
Watch Your Purchases at the Meat Counter
Skinless cuts of meat are often leaner than cuts with skin--and in some cases, the price difference is negligible. Check out lean cuts of meat. You can also substitute ground turkey or chicken for ground beef in a variety of recipes, cutting both the calories and the fat content. Over time, you'll discover that you like the taste of those foods better--and your body will certainly thank you for your efforts. 
Incorporate Snacks Into Your Shopping Plan
A great diet can be completely ruined with your snacking habits. You've gone out of your way to eat as healthy as possible for breakfast, lunch, and dinner, but if you're grabbing for unhealthy snack choices between meals, you may be taking in too many calories and sabotaging your healthy eating efforts. Make sure that your shopping list includes plenty of healthy snack options that fit your snacking needs. If your family is on the go a lot, you may need to prioritize snacks that are easy to grab. If you have dietary restrictions, make sure you have snacks you can take with you anywhere you can expect to eat.
Healthy Snacks to Buy
Looking for healthy snacks to add to your grocery list? Try some of these great options:
Fresh fruit
Carrot sticks
Greek yogurt
Vegetable chips
Dark chocolate (combined with nuts or Greek yogurt, it can be a great sweet addition to your snack)
Cheese sticks
Eggs (for hard boiling)
Beef jerky
If you're ready to transform your grocery shopping efforts once and for all, increase your energy levels and help your family stay healthy, these tips are a great place to start--and of course, Bobo's Oat Bars are here to help you on your journey to a healthier diet. Look for us in your local grocery store or visit our website to order healthy snacks for every member of your family--or contact us to learn more about our great healthy snacking options.