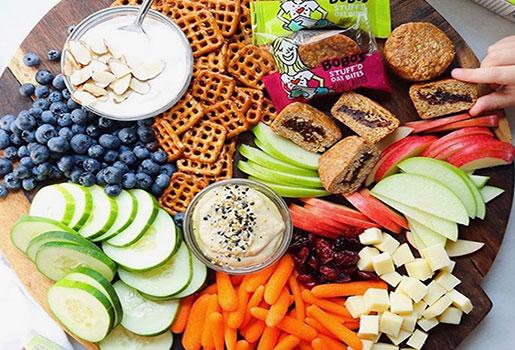 10 Snacks to Fuel Energy Throughout the Day
You know when your endurance and stamina dip towards the middle-to-end of the afternoon? Well, that afternoon slump could be avoided, if you continually reach for healthy energy snacks during the day to fill your belly and keep energy levels high all day long. 
The best snacks for energy that's long-lasting contain protein, fiber and some healthy fats. And for people who can't tolerate gluten, have an allergy, or get sleepy after eating gluten, gluten-free energy snacks make a huge difference in managing and maintaining focus and motivation, too!
What Can I Eat for High Energy?
Nutritionally-dense foods and the best snacks for energy will contain macronutrients, like protein, fiber and heart-healthy fats, to promote satiety and get rid of hunger. Plus, they're known to immediately boost momentum and fuel, to give you more energy that'll power you through the day and keep you going strong. 
Can Snacks Give You Energy?
Yes! Actually snacks are one of the greatest vehicles for creating more energy and providing the brain and body with a fresh source of nutrition and sustainable fuel. Good snacks for energy include healthy energy bars and other snacks that give you energy, like jerky, gluten-free oat bars and protein bars or smoothies. There are also high-energy snacks you can DIY at home!
What Snack Gives You the Most Energy?
Healthy high-energy snacks that give you the most energy per serving will likely be those that you make at home or meal prep and stash in your day bag or office fridge, for later use. 
For example, you can combine an oat bar with a Greek yogurt or a packet of nut butter, to then drizzle on for a bump in protein, fiber and fat content. Combos provide more fueling power, as a whole, since you can pair different energy-promoting foods at once! 
Here are a few examples to get started with. These are the 10 best energy snacks to enjoy during the day to keep endurance and focus high and strong! 
1.Bobo's Banana Chocolate Chip Oat Bar 
Oats are filling and complex, meaning they have fiber to boost energy and keep your belly satiated for hours afterwards. Try Bobo's Banana Chocolate Chip Oat Bar, which tastes sweet and satisfies a sugar craving without all the junk that'll leave you fatigued and at risk of blood sugar swings and a crash in energy levels.  
2.Jerky + Bobo's Strawberry Stuff'd Oat Bite
Pair a turkey or beef jerky stick with a Strawberry Stuff'd Oat Bite for a quick and simple snack that's rich in complex carbohydrates for immediate energy, along with some fiber and protein to keep you fuller for longer. Turkey jerky is a bit leaner than beef, if you're looking to cut down on saturated fat and gain more lean muscle! 
3.Veggie Sticks + Hummus or Healthy Bean Dip
Cut and prepare veggie sticks, such as carrot and celery sticks, and a serving of a healthy bean or hummus dip (store-bought or homemade!) for on the go snacking and a quick boost in energy, fiber and protein, anytime you need one! If it's not made from scratch, read labels on the dip to make sure the dip is gluten-free, if you don't tolerate gluten or have an allergy. 
4.Bobo's Chocolate Almond Butter Stuff'd Bar
This tasty high-energy snack and gluten-free oat bar is already filled with creamy almond butter, which contains fiber, fat and protein to give you an energy reboot. So, you're taking that second step of grabbing an almond butter pack out of the equation and simplifying snack-time further. Each bar has 6 grams of protein and energizing rolled oats for that pick-me-up that is quick, yet also sustainable! 
5.Homemade Trail Mix or Granola
Many packaged granolas and trail mix are high in sugar and calories, so make your own at home. Prepare a big batch and stash it away, to keep as high-energy snacks and protein bowl toppers, for those with a base of Greek yogurt or chia seed pudding, for example. Choose whole, purely rolled oats, which are gluten-free and won't impact blood sugar levels or cause swings. 
6.Cheese + Fresh Fruit + Nuts
This combo hits all the marks as one of the best energy snacks you can grab in the day. There's some protein, fiber, clean fat and a variety of vitamins and minerals for increased fueling all day long. If you want, swap fresh fruit or gluten-free crackers, or a jerky stick, especially if you are on a lower-carb diet and want to bump up the protein and decrease carb count. 
7.Hard-boiled Eggs + Sliced Avocado 
Meal prep eggs and make one large batch earlier in the week, to then keep on hand for easy, on the go, high-energy snacks. The eggs provide protein to nourish your mind and body and boost energy ASAP, plus hold you over for longer. The sliced avocado offers some healthy fats to increase fullness further! 
8.Gluten-free Crackers + Canned Fish 
Season canned tuna or salmon with black pepper, a dash of salt and either herbs or spices, like cayenne for heat and to fire up your metabolism. Pair with leftover quinoa, a grain that's gluten-free in natural form and a complete protein, if you're able to assemble it quickly at home! If not, look for gluten-free crackers that offer fiber and as much protein per serving as possible. 
9.Banana + Peanut Butter 
Bananas provide immediate energy as well as fiber, along with electrolytes, like magnesium and potassium, to fuel muscles and aid in recovery (which makes them especially great as high-energy snacks post-workout, too!). If you're home, spread PB on a banana and dunk the covered banana in slivered, raw almonds, for extra fiber, fats and protein. Yum! 
10.Protein Smoothie
Sometimes it's easiest to sip your fuel for fast-acting energy, and smoothies, when protein-focused or containing healthy greens, efficiently promote greater energy levels and help keep hunger at bay for hours. Choose a gluten-free protein powder, such as a vegan, plant-based powder, for a simple punch of protein, and energy boosting foods, like greens, nuts and fruit.